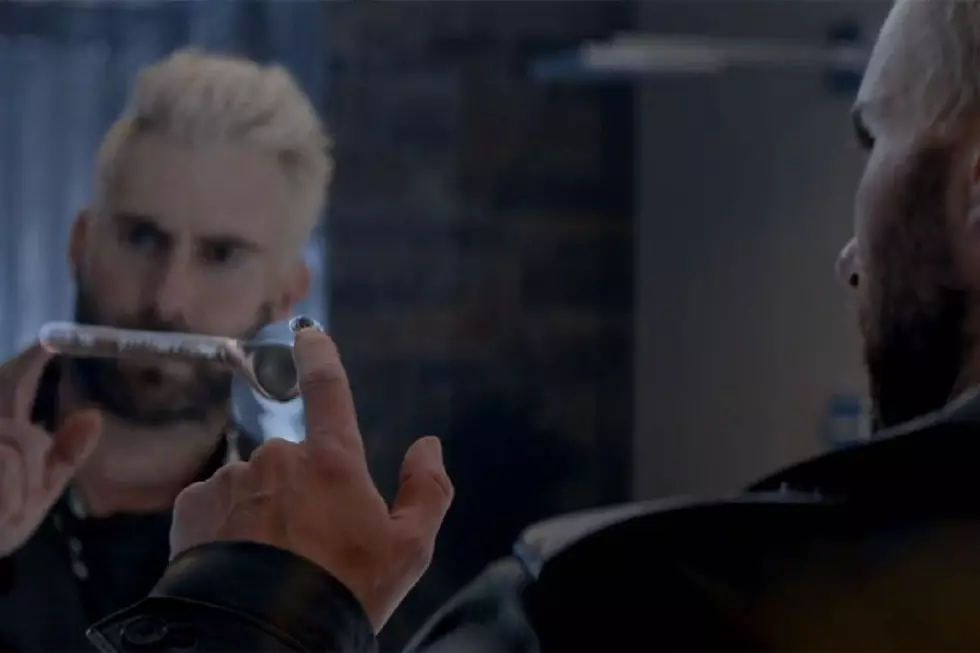 Adam Levine Gets Dosed in Maroon 5's 'Cold' Video Featuring Future
Vevo
Maroon 5 debuted the music video for their latest single, "Cold" featuring Future, via Vevo today (February 15). The clip finds Adam Levine accepting an invitation to Future's party to listen to his feature on the song — arguably the rapper's most pop-leaning bars to date — and what Adam intends to be "one quick drink" (followed by a milk run for his real-life wife Behati Prinsloo) winds up being a psychedelic odyssey involving floating cop cars and a brief reference to The Shining, among other things.
It all begins when Adam's drink is dosed, and soon an array of masked and/or cartoon women make physical advances on The Voice coach. But what's been a scary non-consent parable in shows like Veronica Mars becomes an ostensibly all-in-good-fun exercise for Maroon 5's purposes here. Levine eventually finds his way to Future, who morphs into an old woman and a teddy bear at various points as he attempts to bring Adam back to earth a little.
Eventually, Levine does come down (though not before one particularly unsettling vision in the pool), and comes home to Prinsloo, milk jug in hand.
"Cold" is Maroon 5's first single since 2016's "Don't Wanna Know" featuring Kendrick Lamar. Watch the surreal "Cold" music video below, and check out behind-the-scenes photos and more over at Vevo.
The Best-Dressed Artists at the 2017 Grammys