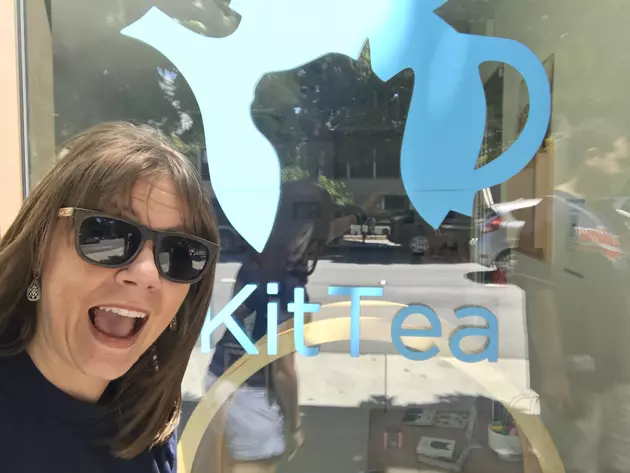 Boise Cat Cafe: Would You Pay for This? [PHOTOS]
Michelle Heart/TSM Boise
Have you ever see a Facebook ad so many times that at some point you just have to give in and check out what the hype's about.  That's what exactly what happened to me this week and I'm glad I caved! 
Between Nathan Fast's wedding, the Napa to Sonoma Half Marathon and the Indians vs Giants baseball game, we bounced all over the place during our vacation.  While I was flipping through my phone as we waited to deplane in San Francisco, I noticed an ad for a place called "KitTea."  Featured by CNet, NPR, Time Magazine, the BBC and more, it's America's first cat cafe!
So, what's a cat cafe exactly? When you go into KitTea there's two sides of the cafe.  The one on the right is open to the public.  Sit down in there, order some tea, a Belgian waffle, bubble waffle wrap, soup or salad while you watch the kitties through the window facing Cat Lounge.
The Cat Lounge is the room on the left.  For $20, you can reserve an hour in the Cat Lounge to play with the cafe's 11 permanent resident rescue cats and the 1-2 adoptable cats that may be visiting from a local shelter.  (That price also includes unlimited cups of their four house green teas that come direct from Kyoto, Japan. For an additional cost, you can order any of the menu's from the cafe to be delivered to you in the Cat Lounge.) The fee helps cover the vet bills for the kitties, food and supplies like litter and toys. During your visit you can play with the cats, pet them if they're napping, take selfies with them, etc! Most of the residents have lived there since they were kittens.
What's in it for you? Cats are scientifically proven to help reduce stress and anxiety in humans.  According to KitTea, they help increase levels of oxytocin (the stuff that makes you want to cuddle) and lower blood pressure.  There's also some really cool stats about how the frequency of a cat's purr falls in the range that encourages healing of bones, muscles and tendons, as well as reduce swelling. Plus if you live in an apartment complex that doesn't allow pets or with a loved one who's allergic to cats, this is a great alternative to owning one yourself! They also offer special events like movie night with the cats and cat yoga.
$20 might seem awfully steep to play with cats for an hour (considering I could play with Dakota for free at home,) but it was so gimmicky and interesting that I shelled out the fee for both my fiancé and I. My question is...if a cat cafe opened somewhere in the Treasure Valley, would you be willing to pay to check it out? Vote below and check out some of my pictures from our visit to the country's first cat cafe!