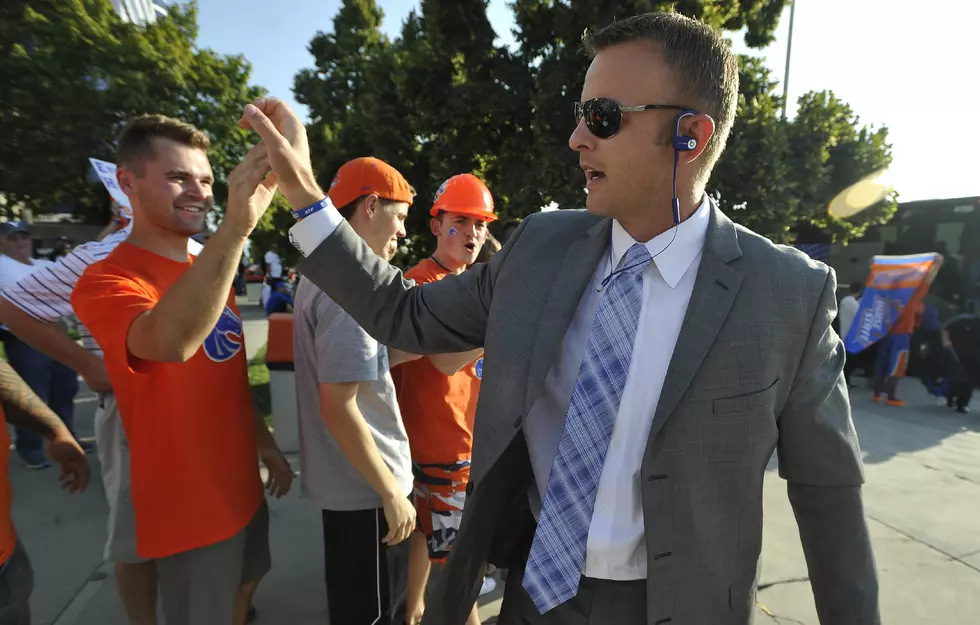 Bryan Harsin Opens Up About David Moa's Arrest
Getty Images
Boise State football coach Bryan Harsin held his weekly press conference today where he discussed David Moa's arrest, BSU's performance and what's going on with the recent quarterback changeups.
David Moa, who was arrested Saturday morning for disturbing the peace and was allegedly involved in a fight outside a Boise bar, will have his situation reviewed by Boise State. Harsin wouldn't comment if Moa would play Friday night against Virginia but did state that he looks at each case individually before decisions are made. Harsin did comment stating Boise State players are preached to constantly consider their actions and that Moa's case will be looked at in-depth.
On the running game Harsin said nobody is satisfied. He says the offense has been inconsistent and has told the team the ground game must improve for Boise State to be successful. He said all 11 players including the quarterback have a role in making the running game work and everyone needs to improve.
Speaking of quarterbacks Harsin said Brett Rypien is practicing this week and threw some balls last week but no decision on his availability for Fridays game against Virginia is expected until later this week.
As for crowd attendance, Harsin said he doesn't really keep an eye on the crowd but the folks that were on hand for New Mexico were loud and that pumped up the team and the entire football program appreciated the fan support.
Harsin also talked about how special it is to have an ACC team coming to Boise to play on the blue. Virginia is 2-1 and much improved from when the Broncos played at Virginia two years ago. He also praised Cavalier head coach Bronco Mendenhal, the former head coach at BYU. Harsin says Mendenhal has always put together a great defensive scheme and now the Cavaliers also have a potentially potent offense.
Fridays game kicksoff at 6 p.m.