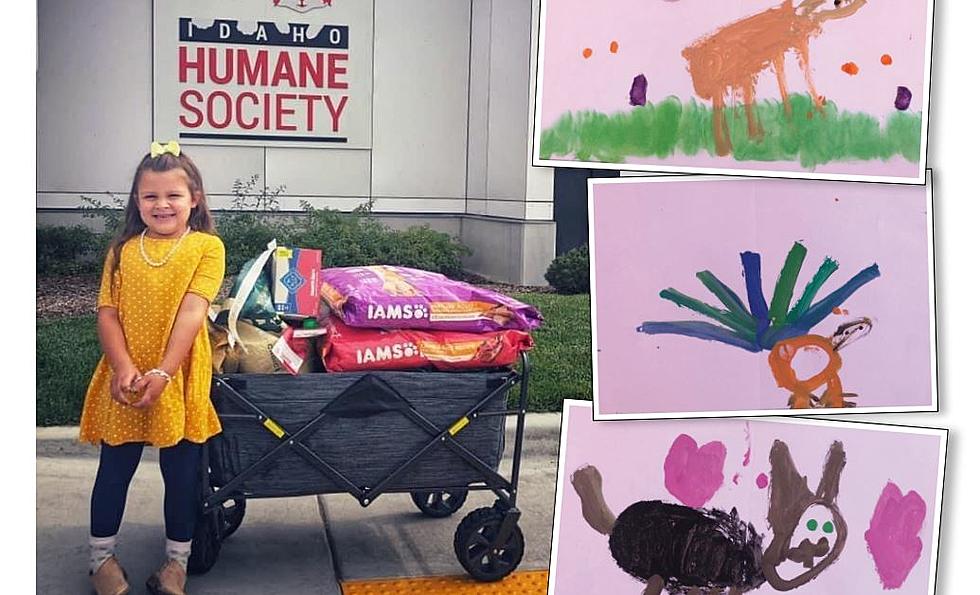 Caldwell 5Yr Old Featured In People Magazine – Update
Mikey
A week ago I wrote an article about Elliot Phillips-Hallock. Why? As someone who believes that we are all put on earth to make a positive difference in the lives of others her story warmed my heart. The short version of the story is that this adorable 5yr. old decided that she was going to make and sell paintings in order to buy food for the pets at the Idaho Humane Society. When she found out that the non-profit was struggling she and her mom immediately jumped into action and raised over $900.  The local news channels picked up the story and then People magazine decided to do a feature on Elliot. I'm so proud of the kindness put forth by this little girl and I hope all this good energy comes right back to her and her loved ones.
Fast forward a few days and I get a phone call from Bethany who along with Elliot's mom set up an autograph signing and second fund raiser for the Idaho Humane Society. If you believe positive behavior should be celebrated, celebrate with Elliot this Friday. See all the details below in the email that Bethany sent me on Monday.
"Loose Screw Beer Co. will be hosting a fundraiser for the Idaho Humane Society and the Idaho St Bernard Rescue alongside of Elliot Philips-Hallock. We will be donating $1 per pint sold that day, Waffle Love will be there serving food and donating 10% of their proceeds, Fit Body Bootcamp will be out as well as Skin and Tox, both businesses will be donating. On top of that, it is Meridians Community Kindness month challenge and we are going to make sure that they know that Elliot is sharing the kindness through a small act of kindness in her heart for dogs, and how the smallest thing can make a huge impact when others come alongside you.
The event will kick off at 4:30 on Friday the 16th at Loose Screw Beer Co. 1511 N McMillian Rd Suite 100. Meridian, ID 83646. Elliot will be there selling her artwork, and signing her article in People magazine."
click here for even more details https://fb.me/e/dvsuFeKJ7
LOOK: Here are the best small towns to live in across America
LOOK: 15 Discontinued McDonald's Menu Items