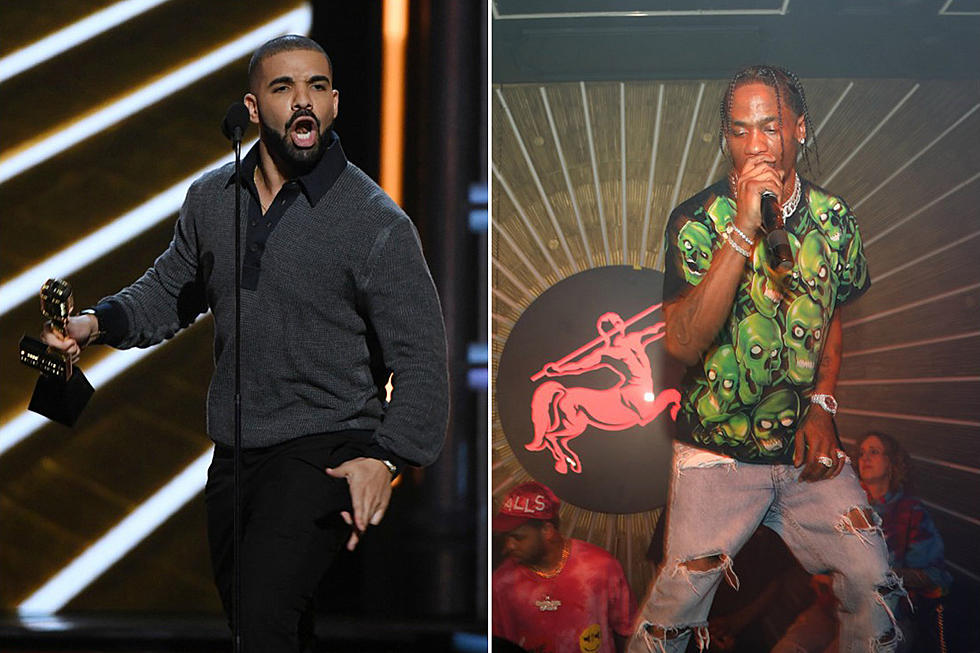 Drake and Travis Scott Play 'Fortnite' Video Game With Popular Streamer Ninja
Ethan Miller / Jerritt Clark, Getty Images (2)
Drake has been known to give rappers a boost in popularity when he hops on their track, and on early Thursday morning (March 15), Drizzy and Travis Scott helped popular Twitch streamer Ninja break a viewer record by playing Fortnite together.
After a few problems at first—as the rapper was playing on PS4 and the streamer on PC—Ninja and Drake finally linked up to play, as close to 400,000 people watched. The viewer count kept growing and at around 1:30 a.m. it was up to 607,000, breaking the Twitch record for most concurrent viewers on a single stream.
But that wasn't even the craziest part. Later in the stream, Travis Scott and Pittsburgh Steelers star JuJu Smith-Schuster joined in on the fun. At one point, La Flame had to ask Drizzy for some help, asking the Toronto rapper to revive him in-game.
"Bless me with the hands," Travis told Drake. "I got you," Drizzy fired back. "Three, two, one, God's plan. Let's get it!" Travis said.
While Drizzy, Travis and Smith-Schuster were the only stars playing with Ninja, Lil Yachty and noted gamer Logic were watching. "@ninja @drake I'm online let's go," Yachty tweeted.
"Tell the boy drizzy he don't want it with Bobby! 😂," Logic tweeted at Drake, issuing a challenge to the "Look Alive" rapper.
So, just how long has Drake been playing Fornite? According to the rapper, it's only been a month or two but he usually has a ton of downtime in between studio sessions to play.
Check out Ninja's stream with Drake below and see tweets from Drizzy, Yachty, Logic and more.
See Drake and Travis Scott Play Fortnite With Popular Streamer Ninja