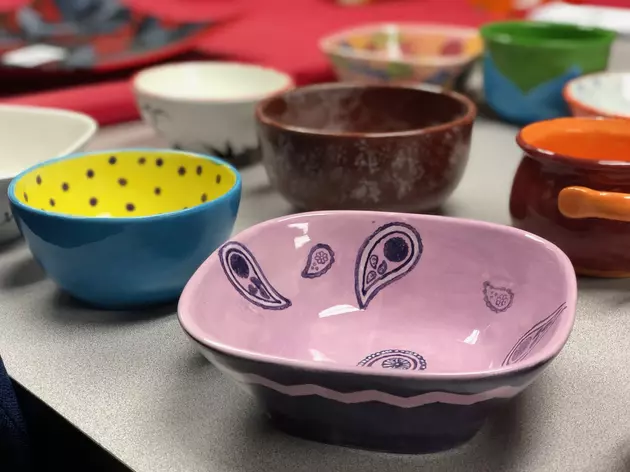 Empty Bowls Is Back on Black Friday
Michelle Heart, Townsquare Media
This is one of those Downtown Boise events that I always end up seeing on the news later in the day and say to myself, "wait, that was today?!" 
Well this year, Julia from the Idaho Food Bank reached out and asked if I'd like to attend a preview of this year's event before it happened.  I jumped at the chance, but after I went to check it out, I felt kind of silly for missing it every year.  It's ALWAYS on Black Friday and for a very specific reason (more on that in the video below.)
Empty Bowls is one of Idaho Food Bank's biggest fundraiser each year and this year they hope to raise $40,000 through the event.  When you consider that $1 = five meals through the Food Bank, that's a lot of mouths being fed in the Treasure Valley!
If you think about going to buy food for dinner at Albertsons or Winco you're probably wondering how they come to that number because you know you certainly can't make a meal for $1 unless you're having one tomato and calling that "dinner."  Most food banks use a formula like this: meals fed through food share outreach programs + meals provided through distribution/contributions.  Most food banks see a greater percentage of their stock come in from donations rather than having to actually buy the food, which helps them serve a full, nutritious meal for just $1!
This year's Empty Bowls it the 20th Anniversary and they'll be taking over The Grove Plaza on Friday, November 24 from 10 a.m. - 1:30 p.m. Walk through while you're doing Black Friday Shopping and you'll see thousands of hand painted bowls! They start at $10 a bowl and when you buy one, you get to fill it up with some of the best artisan soups in the Treasure Valley from restaurants like Alavita, Bittercreek, Cottonwood Grille, Fork, Richard's, 13h Street Pub, Z's Rooftop Cafe and more!
For more on Empty Bowls and why it's on Black Friday, check out our interview with Christine Dwello, Corporate and Community Relations at the Idaho Food Bank, below!