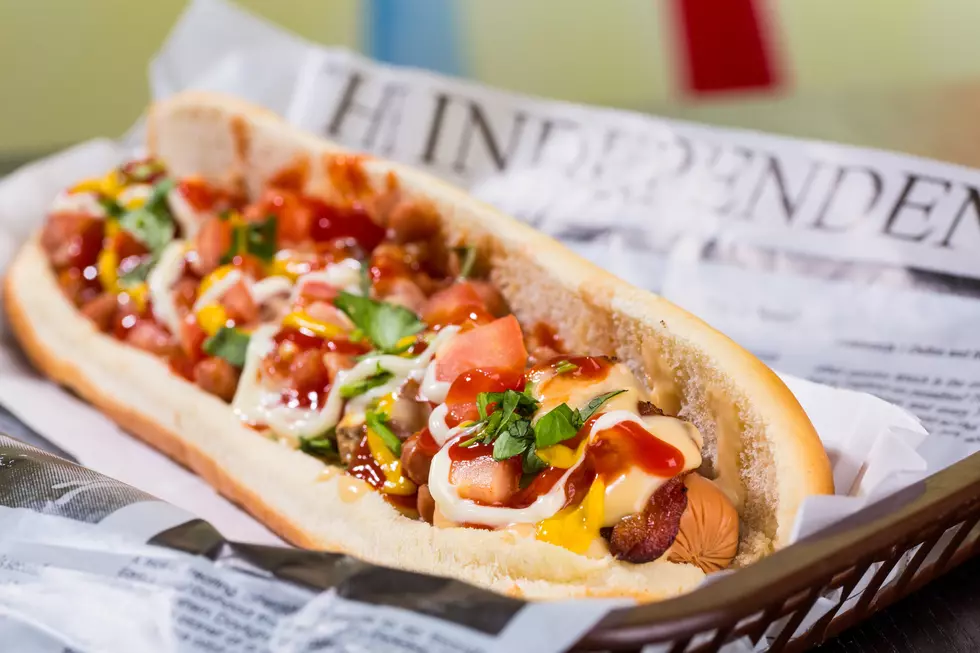 Idaho's Top Rated Hot Dogs in Boise
Gourmet Hot Dog, Photo by Daniel Lloyd Blunk-Fernández on Unsplash
Sometimes you just need a satisfying hotdog or elevated version of one anyway. Boise is again and again coming up on the list of notable 'food' cities. The Treasure Valley is full of creative, delicious and satisfying eateries, restaurants and food trucks.
Today though we focus on this particular food category because, you guessed it... Today is National Hot Dog Day. "While we cannot be completely sure how or even when National Hot Dog Day was created, we do know that the day was created as a nod to National Hot Dog Month in July by the National Hot Dog and Sausage Council to highlight this fan favorite. Hot dogs became a household name in the late 19th century when casual food lover and baseball team owner of the St. Louis Browns — better known to some as the Baltimore Orioles — Chris Von de Ahe brought the two together at his own amusement park." - National Today
Looking to help from hundreds of local and traveling food lovers I looked to Yelp and Google for top rated and best reviews for Hot Dogs in the Treasure Valley.
Twisted District in Garden City Home of the famous "Yard Dog" - also had excellent hot dog reviews.

As far as the regular dogs, Amy on Yelp said, "We got two kinds of hot dogs to share- the bruschetta dog with fresh mozzarella rounds, chopped tomato and spicy balsamic glaze and the Elote dog with chorizo and Mexican street corn on it to share. Everything we ate was so fresh and delicious. This spot is a must in Boise."
Foxy Franks is a traveling food tent but if you see them they are worth getting one! Keep an eye out for where they are through their facebook page here.  Juli on Yelp said, "If you love hotdogs as much as I do, you need to check out Foxy Franks, a mobile kitchen whose motto is "You'll love our weenies!"
Yerby's Gator Grill - N 6th St &, W Main St, Boise - Perfect 5 star review on Google. Ryan Clay wrote, "Home made Phillys, giant dogs, and all the toppings! These are the delicious smells greeting you when you step out from a bar on a Friday or Saturday night and it is all thanks to Yerby's Gator Grill. René has provided the best sandwiches and dogs to Downtown Boise since 2003 and he always greets you with a smile."
The top one in all of Idaho is Scotty's Hot Dogs, Boise. According to Love Food, There's no fuss or frills at Scotty's Hot Dogs, just really good hot dogs. At this Boise food truck, all dogs and toppings are cooked fresh to order.
Jeremy on Yelp said: "1 dog will definitely fill you up but it's worth sharing a 2nd if you have room. Fresh quality toppings to choose from too. I never knew hot dogs could be elevated to this level. And they're super nice!"

Scroll for more must try Treasure Valley Food Trucks, Restaurants and more.
According to Locals: 34 of the BEST Treasure Valley Food Trucks
The people of the Treasure Valley love delicious food and they love convenience. Combine those two things? Pure magic.
Boise's Food Hall Announces Its First 12 Tenants
The Warehouse, a new food hall in Downtown Boise, has plans to open in early Summer 2022. So far over 12 of its 20+ vendor spaces have been spoken for.
Restaurant in Nampa Begins Filming for Popular Food Network TV Show
Every Idaho Restaurant Featured on Food Network
Every Boise Restaurant That Appeared on Man v. Food
The Travel Channel series has been hosted by two different people. Both of them chose to visit the City of Trees to get their grub on. Here's where and what they ate!