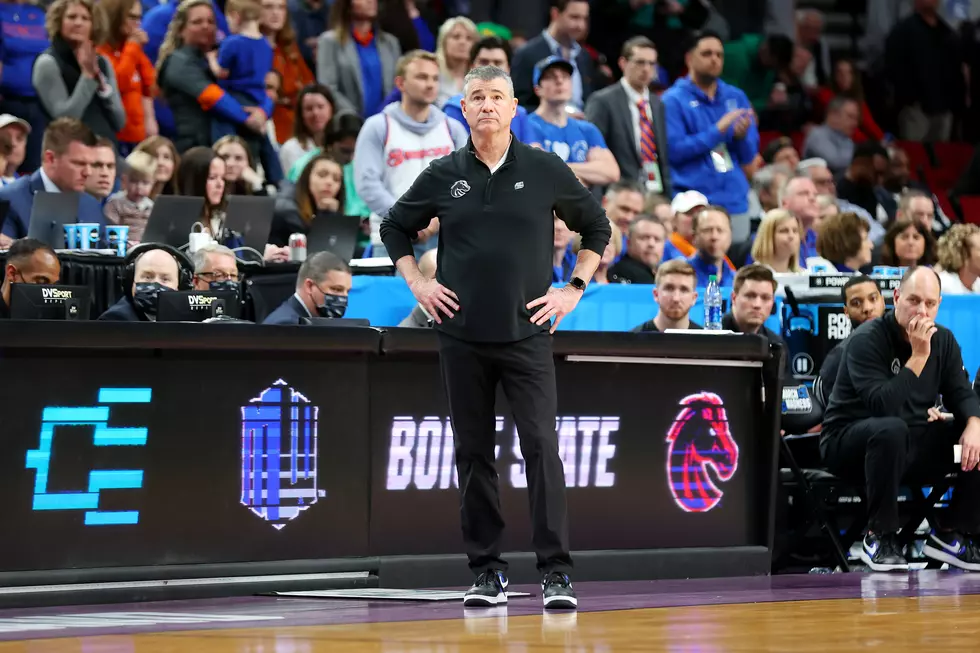 Boise State Basketball Team Suddenly on the Ropes
Getty Images
It is challenging to win basketball games at any level. Just ask Boise State Basketball Coach Leon Rice. The coach saw his team lose a heartbreaker in overtime to the powerhouse San Jose Spartans. If you didn't notice the sarcasm in our description, please insert it here. Unlike Boise State, San Jose was not a team in contention to gain a birth in the NCAA Men's Basketball tournament.
The team will look to rebound at home against the San Diego State Aztecs, who are currently the top team in the Mountain West. The Aztecs travel to Boise on a six-game winning streak. The group is peaking at the right time. Several college basketball experts still have the Broncos making the tournament a double-digit seed.
That could change with a loss to the Aztecs at home and a disappointing performance during the Mountain West Basketball Tournament next week. Like everything in life, nothing is guaranteed, especially a bid to March Madness.
Some fans have reacted by criticizing Coach Rice and the team.
Fortunately, college basketball games are won on the court, not on Twitter or message boards. Coach Rice must now use his leadership skills honed at Gonzaga and in Boise. Two wins and a winning or a deep run in the Mountain West Tournament would secure a single-digit seed for the Broncos. One could not think of a better reward for their exceptional season.
Boise State's Most Underappreciated Star
Boise State seems to mean "football" for most, right? On a national stage, after all, it's the blue turf and the success that the Broncos have had on it that made the university a household name. What happens on the hardwood, however, is far from appreciated at the level that it should be. Leon Rice came to Boise State as a blessing from one of the most powerful basketball programs in the nation: Gonzaga University. Now, the winningest basketball coach in the history of the school seems to take immediate heat if the Broncos aren't in the Final Four. Spoiled by wins on the football field, fans seem to expect the same of the basketball program but when the investment in basketball is so much less than football--can you really have these types of expectations!?
Former Boise State Star Loves Cheeseburgers
Hank Bachmeier is known for being a great quarterback but now TikTok knows him as a cheeseburger judge!
CHECK OUT BOISE STATE FOOTBALL'S 2023 SCHEDULE
Some new foes and familiar faces await the Broncos.