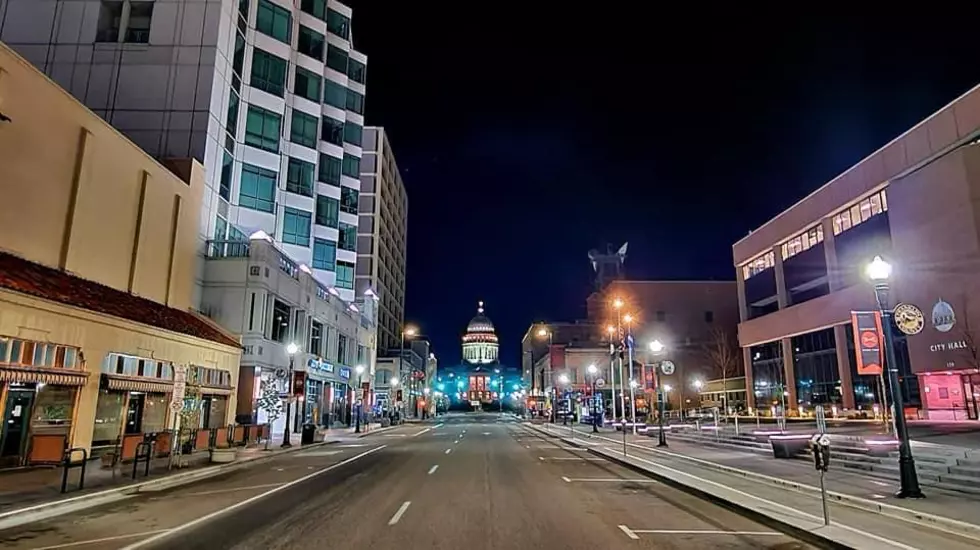 28 Chilling Photos of Downtown Boise In 2020 as Pandemic Begins
Courtesy: Chip Shultz
It is almost June 2021. What's changed? We typically see our memories on social media with a blink and move on. Those moments seem somewhat painful today.
I just recently went to a restaurant for the very first time since the pandemic lockdown started. It was just the essentials for our family in 2020 as we begin to see the daylight on the other side. Do you really remember what happened and what the state of Idaho looked like?
There is a man named Chip that I've known for several years as he consistently helps call awareness to military suicide. I just watched his son graduate Bootcamp from the United States Navy wearing masks. That was a historical photo that he put up online and you may never see something like that in your lifetime.
This reminded me of 28 photos that Chip took on lonely lockdown night in downtown Boise. Honestly, I don't remember the look of our abandoned downtown Boise until I saw these. I'm not sure many of us remember as we've just been praying for normalcy. The world waited for 2021 and it didn't change as we expected.
Summer is on the way with the Western Idaho Fair announcing its back, The Jonas Brothers are coming for the first time in like 10 years, and events are thriving. I think we're coming back in a great way.
I walked into ExtraMile today and saw this.
During the Spring break of 2020 masks weren't a thing. It didn't matter because we were on the brink of a lockdown and you could see it in the streets. Chip gave me permission to use his photos and the caption was so well written I had to share.
On the final night of Spring Break, the streets that were normally lined with traffic - were bare. The sidewalks once crowded with locals - were empty.

 

The restaurants where you could rarely find patio seating available - were now abandoned. And some of the best bars and nightclubs, whose music could be heard a block away - emitted only a deafening silence.

 

Last night, my son and I wandered around downtown Boise taking these ominous photographs. It was a very creepy and sad feeling. One of my favorite places in all of Boise looked like a scene out of 'I Am Legend.'
These photographs were taken on March 28, 2020. This was the beginning of something that will be forever remembered and not just because the streets were empty. The world lost 3,465,348 lives to the coronavirus and over 2,000 of those were from Idaho.
20 chilling photos of the empty streets in downtown boise during the 2020 Pandemic
This is what Downtown Boise looked like during the first month of the pandemic back in 2019. A friend of mine took these photos with his son as the streets were empty and locked down to Idaho. This is a dark and quiet time that we'll never forget.
20 New Treasure Valley Restaurants That Have Opened Since the Pandemic Began
28 Google Street View Images That Show Just How Much Boise Has Changed