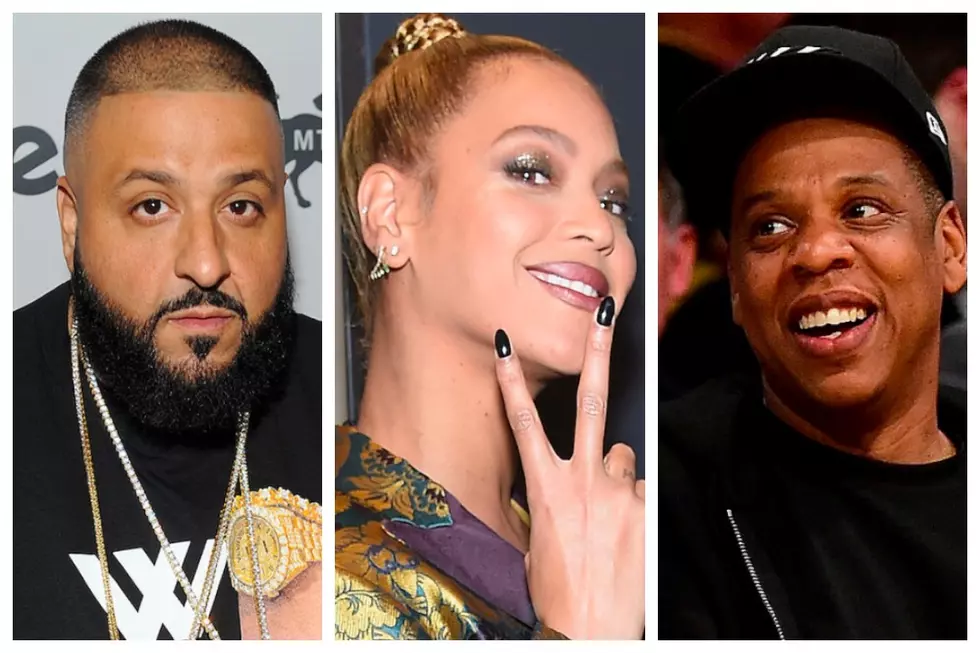 Beyonce Is Playing No Games on DJ Khaled's New Song 'Top Off' Featuring JAY-Z and Future [LISTEN]
Larry Busacca/Brad Barket,/Harry How, Getty Images
DJ Khaled has dropped the energetic "Top Off" featuring JAY-Z, Beyoncé and Future, from his upcoming album, Father of Asahd. Produced by Khaled, Beyoncé and Joe Zarillo, the track opens with Future wailing about taking the top off the Maybach, with JAY-Z adding he sees the cops behind him but "he ain't gonna stop."
On the first verse, Jay spits a defiant verse, and also shouts out Meek Mill. "I do the whole dash with no seatbelt/Screamin', "Free my nigga, Meek Mill"/Niggas can't wheelie in this free world/Meanwhile Georgie Porgie sinnin' and sendin' me threats/Save your breath, you couldn't beat a flight of steps," he opens the verse.
But the song really allows Bey to stunt—fitting since she co-produced the track. She opens talking about how she's top two, and she "ain't number two" "I'm the only lady here, still the realest nigga in the room," she asserts after JAY tells her to "put these fuckboys on notice."
She also shouts out Meek Mill. "I break the internet, top two and I ain't number two/My body, my ice, my cash, all real, I'm a triple threat/Fuck it up and then leave, come back, fuck it up and leave again/Top off the coupe and it look like Freaknik/In the hood, hollerin', "Free Meek"/Two deep, it's just me and JAY/Just posted in them courtside seats/Woo! I'm like hol' up.../Woo! I might roll up/If they're tryna party with the queen/They gon' have to sign a non-disclosure, ayy," she sings. Take a listen to the song below and peep some of the reactions to the track, which has been trending since it dropped early Friday morning.
Worst To Best: Every JAY-Z Album Ranked