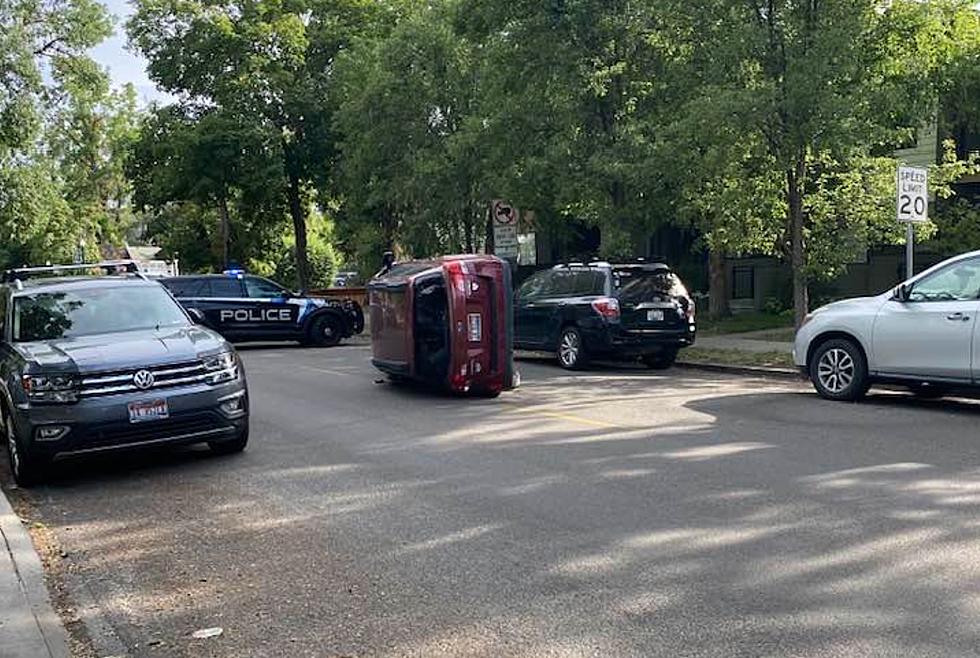 Boise Car Rollover Sparks Online Laughter, Confusion [Photos]
Credit: Photo used courtesy of Amber Annen
Editors Note: while the vehicle rollover has warranted a strong, sarcastic online reaction, it is important for us to note that we understand the severity of such accidents and the risks and dangers involved. We, at this point, do not know the story behind this series of photos and truly hope that no persons were injured. 
It was an otherwise quiet evening in Boise's North End when a vehicle accident had police responding quickly--and even closing down the street.
What made this accident so different than many others? From what we can tell...it only involved one car.
It didn't take long for folks online to begin posting photos and commentary of the North End commotion--many people laughed, others were simply left speechless. What on earth happened on 13th & Brumback!? Let's take a look...
Boise Internet Roasts This North End Rollover
Take a look at this wreck that the internet just can't figure out...
What on earth could have happened, here!? 
It's obvious that in Boise's North End, streets are narrow and speed limits are low. As the neighborhood grows more and more into a popular place to hangout because of popular local parks and businesses however--it seems that the neighborhood is busting at the seams and roads are growing more and more narrow from vehicles and pedestrians.
According to some online commenters, sobriety tests were requested by authorities upon responding to this incident. We cannot verify these statements to be true or false.
Could it have been that this driver was going too fast on a small street? Speed limits are important--here are some streets in the Boise area that we think could use an adjustment
These 13 Treasure Valley Roads Need a Speed Change
Spend any time driving around the Treasure Valley and odds are you will spot a little bit of road rage. While it's nothing wildly aggressive most times, it seems that with the growth of our city has come a lot of conflicting opinions on HOW to drive on our streets. Roads that were never meant to handle the volume of traffic that they now do have different speed limits-- some that are a little fast, some that are a little slow. We took to our means, Facebook, to ask YOU where the worst roads are at and which speed limits need adjusted. Here is what we found.
Awkward Hospitality Ends Idaho Road Rage Fight
In a strange brawl on the streets of the Treasure Valley, some sort of road rage incident has the internet laughing out loud at how awkward things were brought to a close.
It isn't often that we see much serious road rage here in the Treasure Valley. Perhaps an occasional "flying of the bird" or an explicative yelled--for the most part, the lack of real traffic in Boise and our overall "slower" pace of life keeps everyone calm. This brawl seems to be an exception to the rule, at one point, one of the fighting men says to "go back to Washington". It's the END of the fight that has everyone online LAUGHING...maybe it's just some good old fashioned Idaho Hospitality?
Man Zapped By Taser on Idaho Road
The Idaho State Police weren't messing around with this guy!