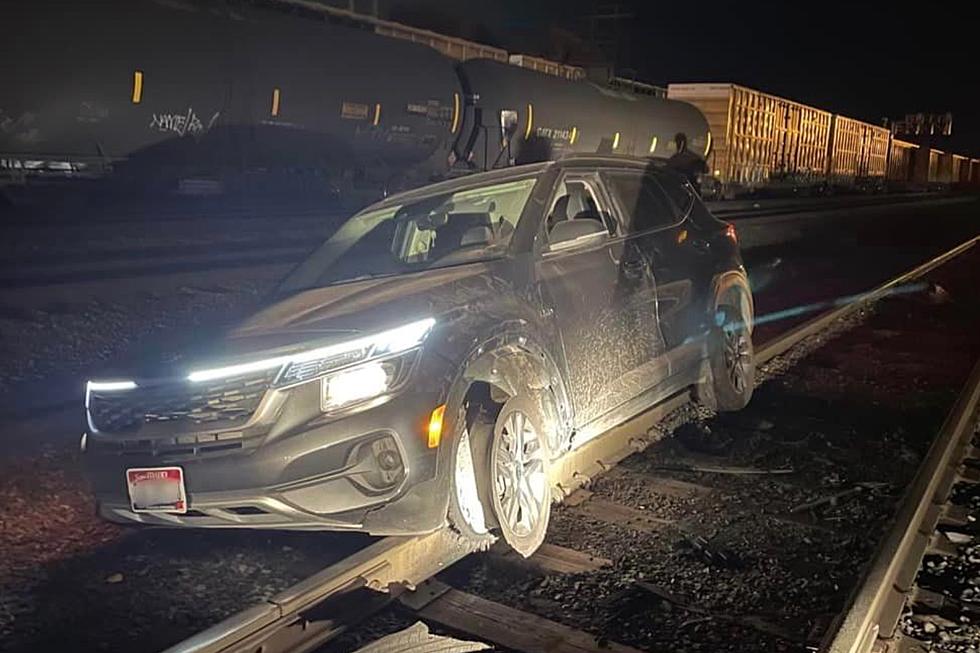 Drunk Driver Trapped on Train Tracks Rescued by Nampa Police
Credit: Nampa Police Department
A bit of an incident took place over the weekend in Nampa and while it was terrifying--everyone is glad that it didn't go as bad as it could have.
According to the Nampa Police Department, officers were alerted to an 'impaired' driver who had gotten their vehicle stuck on the train tracks. It was the Union Pacific Railroad workers that had found the vehicle in the dark of night and luckily, alerted Nampa Police quickly.
Here's a look at what Nampa Police were dealing with over the weekend...
BIG YIKES here...luckily, this did not go as bad as it could have. 
Had the railroad workers not spotted this vehicle and stopped rail traffic, it is entirely possible that a train could have slammed right into the thing and killed whoever was inside. Police are now using this scary matter as a reminder to the public that it is NEVER ok to drink and drive.
As summarized by the Nampa Police Department:
The impaired driver found themselves stuck on the railroad tracks, in the pitch dark, late at night. Eventually they found themselves in the custody of the Nampa Police Department, and lastly in the Canyon County Jail for DUI and other related charges.
We can't imagine how terrified and regretful the driver must have been. All things considered, anyone would be thankful for the rescue preformed by Nampa Police officers.  Those with the railroad also worked hard to clean up the incident and get the rails back to moving as they needed to.
These 20 Crimes Are Still Unsolved in Boise
Can you identify anyone in these photos or surveillance videos? The Boise Police Department is hoping that you can give them a tip leading to more information! Who would have thought that the City of Boise would have so many unsolved crimes!
Gallery Credit: Credit: Mateo, 103.5 KISS FM
LOOK: These 19 People Are Boise's Most Wanted
Yes, even here in the Treasure Valley where crime isn't so rampant, there is a most wanted list. According to the Southwest Idaho Crime Stoppers, these are the most wanted of them all. So many of these mugshots are from Ada and Canyon Counties. Do you recognize anyone?
Gallery Credit: Credit: Mateo, 103.5 KISS FM