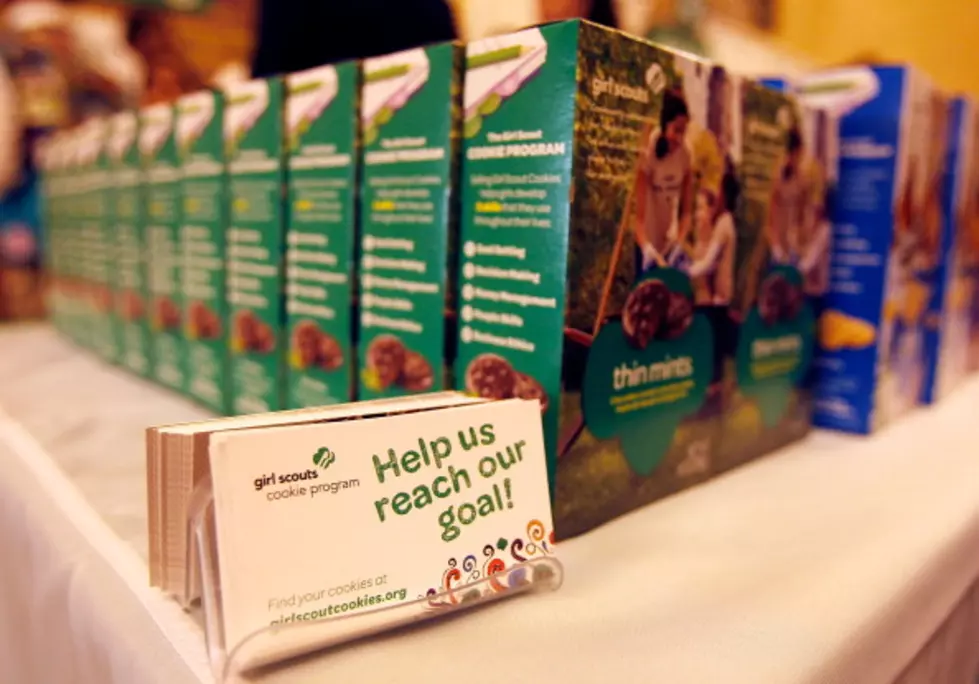 Girls Scout Cookies Are Evil…But So Good! Check Out Some Past and Present Flavors!
Getty Images
I grew up with 8 sisters, so you can imagine, I've had just about every flavor of Girl Scout cookies!  I've also had to tag along with my sisters while they sell a million boxes.  January 2nd marked the start of the GC cookie season, so if you haven't bought 20 boxes by now, here are the current flavors as well as some past flavors that sound really good(maybe they can bring them back).
This year, you can get some new flavors like Caramel Chocolate Chip Cookie(gluten free) Toffee-Tastic is the other gluten free option.
But what about some of the past flavors?  Here are three that sound sooo good, they should bring back.
In 1992, the Praline Royale—a soft vanilla cookie with praline filling, pecans, coconut, and chocolate drizzled on top—replaced the Golden Yangle. The packaging for both the Praline Royal and the Golden Yangle touted "Building Bridges: One of many Girl Scout experiences that helps girls create their own futures."
In the late '90s, the Girl Scouts introduced Le Chip, a chocolate-dipped, chocolate chip hazelnut cookie. Debuting before America got on the Nutella bandwagon, these cookies were short-lived.
3. JULIETTES
Named after Girl Scouts founder Juliette Low, the Juliette (available from 1984 to1985 and then resurrected from 1993 to 1996) was the Golden Nut Cluster 2.0. Also boasting caramel and pecans, this dreamy cookie was also covered in milk chocolate—like the Girl Scouts' version of a chocolate turtle.
Something else really cool about GC cookies, if you don't stock up on enough boxes or just love baking, they give you the cookie recipes!  So if you are feeling adventurous or just love to bake...try making some for yourself!
Just click here for the recipes
!
So if you see a Girl Scout out at your local Wal-Mart or shopping center in The Treasure Valley... stop and pick up a few boxes.  C'mon, you can't say no to a Girl Scout, can you?