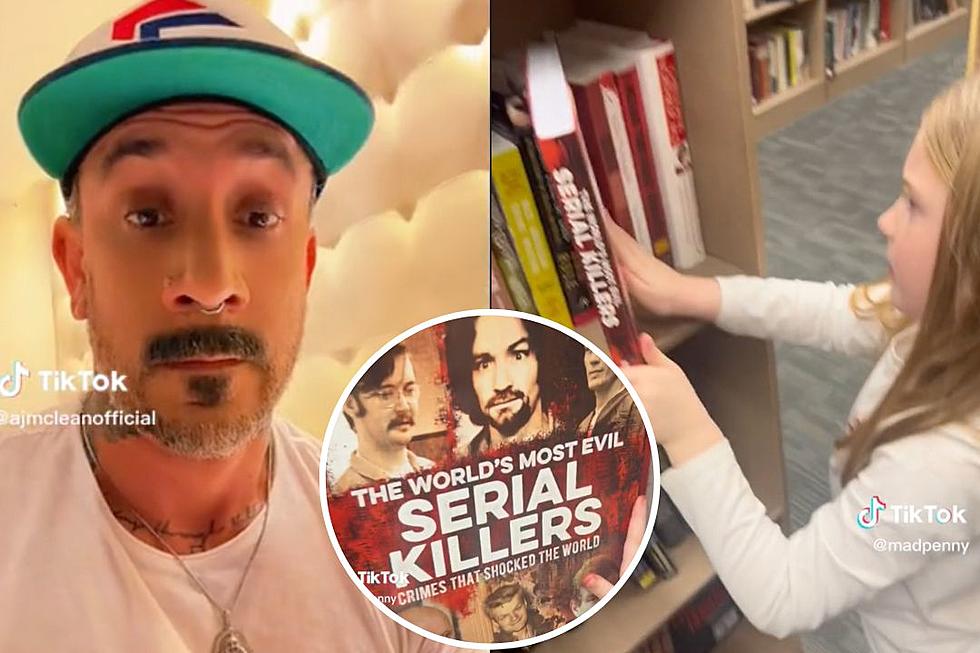 Little Girl Mistakes Serial Killers for Backstreet Boys in Hilarious Viral TikTok
@ajmcleanofficial / @madpenny via TikTok
Can you imagine the world's most evil serial killers singing "I Want It That Way," choreography and all?
One little girl created that image when she innocently mistook a book about serial killers for the iconic '90s and '00s boy band, the Backstreet Boys.
"Wait, are these the Backstreet Boys?" the girl asked in the viral TikTok video. She then held up a book called The World's Most Evil Serial Killers: Crimes That Shocked the World.
"Is it the Backstreet Boys?" the person holding the camera asked. "Yeah!" the girl confirmed.
"They're not," the person said.
"Who are they?" the little girl wondered, and the person simply replied, "I don't know..."
"Okay," the girl said before moving on.
The original video has over 450,000 views and counting, and it gained even more attention when a real Backstreet Boy reacted to the adorably hilarious moment via TikTok duet.
AJ McLean jokingly made a shocked face and shook his head when the little girl asked if the serial killers were the "Everybody" boy band before smiling and mouthing, "Aw," with a hand over his chest.
"Could she be any damn cuter and no we're not serial killers. But we do kill it live on stage baby. !!! Lol let's go!!" he captioned his duet video.
Many viewers made on-theme jokes in the comments, like one person who said, "That's the slash street boys."
"The Backstreet Butchers," another person added.
"I meannnn the hair…the 👀… the segmented photo frames….kinda can't blame her," one viewer joked.
One person even almost re-ignited the feud that plagued the teens of the '90s and early '00s: Backstreet Boys vs. NSYNC.
"The 90s teen in me thinks She shoulda said no, *NSYNC. Mature adult me knows it's ok to love both," they commented on McLean's duet.
Someone else agreed, "When she said who are they the proper response was NSYNC."
"No sweetie. That is Nsync. We don't talk about them anymore," another person said.
Notably, Backstreet Boys members and NSYNC members have collaborated in recent years in TikTok videos and during live performances. Most recently, Lance Bass participated in a benefit concert dedicated to Backstreet Boys member Nick Carter's late brother, singer Aaron Carter.
Watch the hilarious TikTok video, below:
Best-Selling Bands of the 1990s: Then and Now