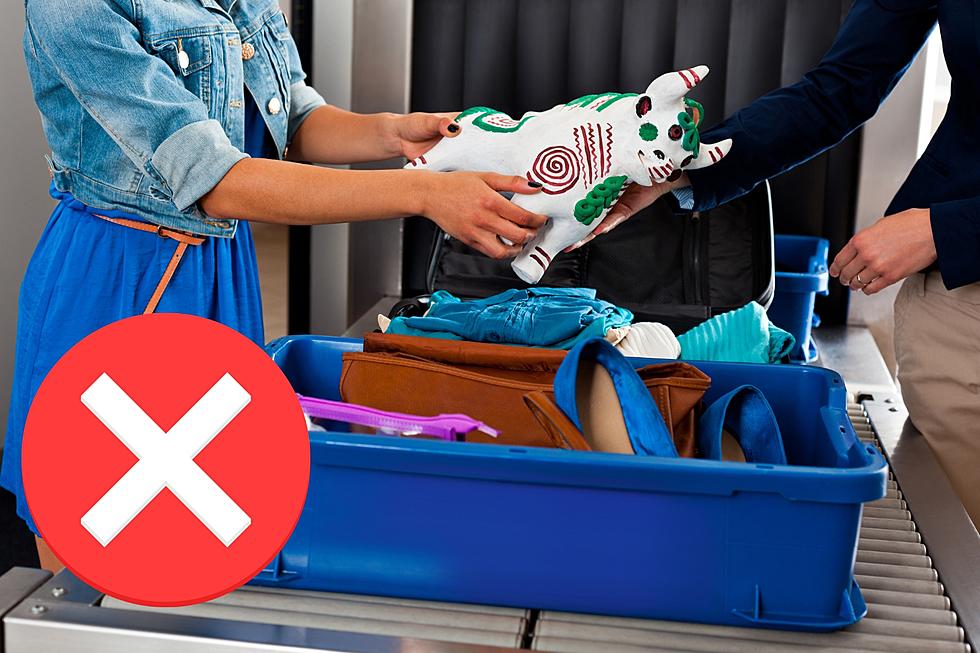 Thanksgiving Travel Warning: 19 Items Absolutely Banned From Carry-On Luggage at the Boise Airport
Canva
One of the busiest travel seasons of the year is already underway at the Boise Airport. By the time the twelve days they consider the Thanksgiving travel period is over, they estimate that more than 170,000 travelers will pass through their gates. 
While sharing tips with travelers making a Thanksgiving vacation, airport staff suggests that you arrive even earlier than they did during the Spring Break travel season earlier this year. They say that you should arrive no later than two hours before your scheduled departure. That should give you enough time to take a shuttle from the Economu lot, check bags, get through the TSA security lines and make it to your gate before your flight starts to board. 
Based on the flights scheduled to depart from Boise November 17-27, they say that the busiest times at the checkpoints will probably be Tuesday, November 21, Wednesday, November 22, Sunday, November 26 and Monday, November 27. The lines will likely be the longest from 5-7 a.m. and 10 a.m.-12 p.m. each day. 
Arriving outside of those peak hours could get you through security quicker. They always aim to keep the experience to 30 minutes or less for regular travelers. That time shrinks to 10 minutes if you've signed up for TSA PreCheck.
Pack Smart to Avoid Holding Up Security Lines
To make things easier on yourself and the people stuck behind you in the security line, they remind you to check the TSA's "What Can I Bring" list before you leave the house. With baggage fees hovering around $30 for most major airlines, it can be tempting to try to "Tetris pack" everything you need into a carry-on bag roller bag.
It sure would be a shame to get to security and have agents undo all of your hard work because one of the items you've packed is NOT permitted in a carry-on bag. Jams, cranberry sauce, gravy and wine are the items that get confiscated the most during the Thanksgiving travel period.
By our count, there are at least 56 items that you CANNOT bring into the cabin as a carry-on but can pack in your checked luggage. Below is an abbreviated version of that list to help you as you prepare for your trip!
19 Items Absolutely Banned From Carry-On Luggage at the Boise Airport
Baggage fees stink and you'll do anything you can to avoid paying them, including dragging some more items on the plane with you. Unfortunately, won't get away with it if you try to bring these items through security as a carry-on.
Gallery Credit: Michelle Heart
KEEP READING: Flying to These 10 Destinations From Boise? Don't Take Luggage With You
According to Forbes, these are the 10 airports are the most likely to lose or damage your luggage. While ranking the airports, they not only considered the rate of complaints filed but how many of those victims were fully reimbursed.
Gallery Credit: Michelle Heart
19 Items Absolutely Banned from Checked Bags at the Boise Airport
You may be familiar with what you can and cannot pack in your carry-on. But how familiar with items banned from your checked luggage? These are 19 of the more than 50 items that can't fly in your checked bag according to the TSA.
Gallery Credit: Michelle Heart