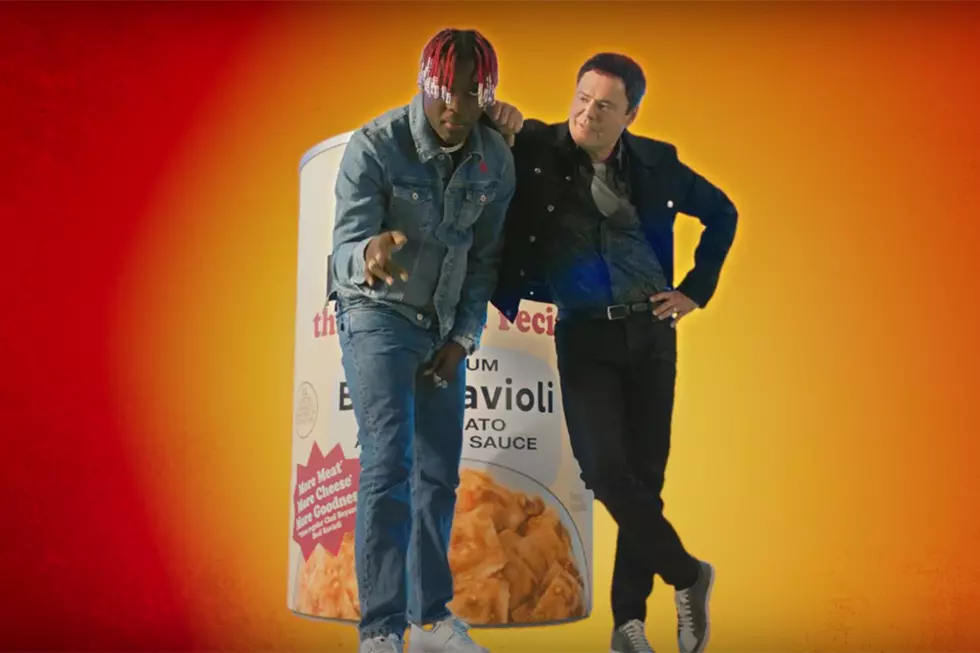 Lil Yachty Teams Up With Singer Donny Osmond to Create New Chef Boyardee Jingle
Chef Boyardee Throwback via YouTube
Lil Yachty has been known to collaborate with the likes of Quavo, Gucci Mane and more, but the Atlanta rapper's latest collaboration finds him teaming up with singer Donny Osmond to update the classic Chef Boyardee jingle.
Produced by 30 Roc, Yachty and Osmond, "Start the Par-dee" is built around a sample of the "Thank Goodness for Chef Boyardee" jingle and features an auto-tuned Yachty spitting bars about the canned pasta. "Bring me a bowl and fork/I won't have to go get some more/Momma, can we go, to the store/'Cause it's all low," he raps over a bouncing trap beat.
Osmond also shows off his rapping skills, spitting a few bars about ravioli. "My name is Donny O and you know I love my ravio's/I'm gonna let you know, sauce it up, sauce it up, here we go/Give me more cheese, life is a breeze/When me and Yachty party we call on Chef Boyardee," an auto-tuned Osmond raps.
Along with the track, Yachty and Osmond also star in a video for the song. Directed by Calmatic/Annex, the visual finds Lil Boat and Osmond working on the song in the studio  while 3D raviolis float behind them. Later in the video, the artists turn up in the kitchen and Yachty is even transported into a black-and-white commercial with the actual Chef Boyardee.
Yachty also spoke about the collaboration on Instagram. "A little black boy like my self who's first rap name was 'rd' got to recreate the theme song for @realchefboyardee with @donnyosmond .. what a blessing #chefboyardee it's lit," he wrote.
Up next for Lil Boat, the rapper has an EP on the way. Last month, Yachty revealed he would be dropping a new project on his birthday, Aug. 23. "On da real, gone drop a ep for my birthday 8/23, remember dat," he tweeted. The record will be Yachty's first project since the release of Lil Boat 2 in March.
Check out the full "Start the Par-dee" video below.
63 Hip-Hop Artists Who've Gone Gold in 2018