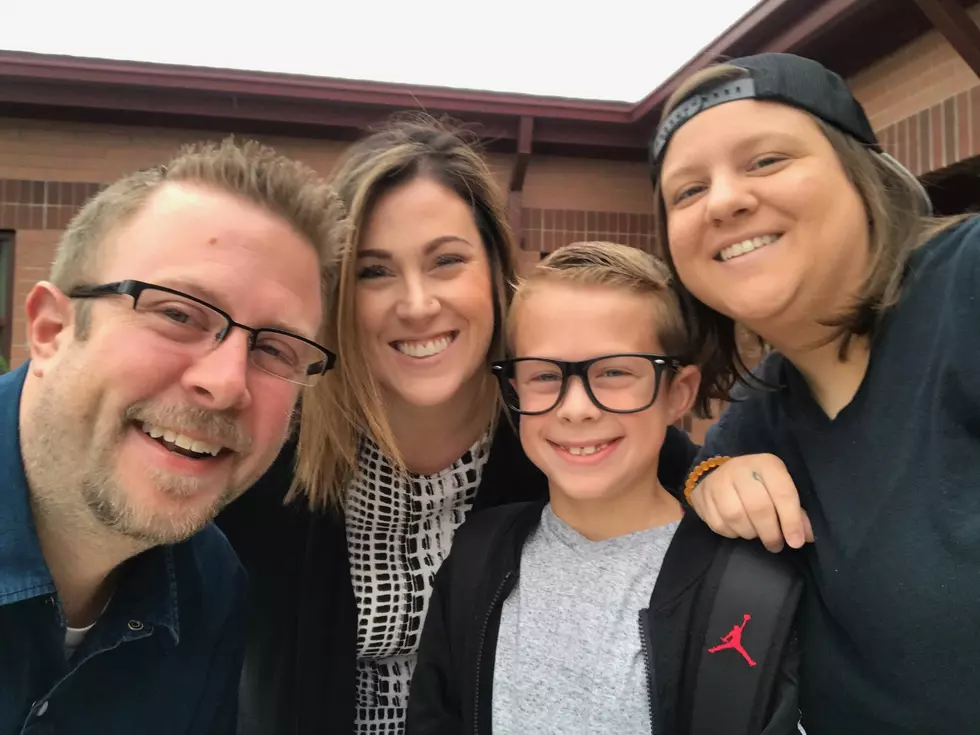 Back to School with Our Blended Family
credit: Jeff Connell
"Hi, we're his moms and dad." That's how the school year starts for my son as his three parents go through three different sets of emotions on the first day of fourth grade. I have some tips on how to keep life together. 
This is one of those "share my journey" and possible "rambling" posts because this year's start to the school year is a complete 180 compared to last year.
I grew up in a single parent household. In my home, it was my mother raising both my brother and  myself. Something I've always been shown from as far back as I can remember is that even if my father wasn't around on a daily basis, there were no negative words spoken of him and there was no fighting with him around me.
Fast forward to me having a child and separating, going through a divorce, getting into a new relationship and getting remarried all while having an impressionable child who wants zero change in life.
What do I do? Exactly what I've been taught.
My son is so lucky (and so are we) in that he has a dad who not only loves him but is obsessed with him. He wants to spend time with him. He wants to create memories. He wants to give him the world. All three of the parents want all the goodness in the world for our little boy.
The start of school last year didn't include all of us. The start of school this year included every single one of us. I wouldn't have it any other way. More importantly, I wouldn't want my son to have it any other way.
Colton has three parents. He has two moms and a dad. We're all in media, we're all detail-oriented, we are all creative, we all come from different backgrounds and we all love him fiercely. The downside: He can't get away with anything.
Most days my little boy is in love with life. There's little he doesn't do or have. He's so blessed that way between parents and grandparents and even the people I work with. They all are so amazing and truly take care of us. On top of that, we all want what's best for him so we go above and beyond to make sure we are informed.
This is where my parenting tips come in.
I don't offer parenting advice so please don't take it as such. We all have different stories and handle situations differently and I would NEVER dream of telling you to do something the way I do it just because it works for me. However, I can tell you what we're doing and let you decide to use it as leverage or power over your child this school year.
Does this make me a savage? Nah, it makes me smart.
Power School App - Download It
Most schools in the Treasure Valley use Power School. Do yourself a favor and download it. This will save you time and arguments and feeling clueless and meetings with the teacher and everything in between. You can keep up with literally everything that is happening in your kids' classroom. It's like a reality show app for school. When my son says he doesn't have homework, this app is like my backup crew.
You can track just about everything in this app and you always look like you know what's going on. Let's be real, you don't. I don't. I hardly ever do. I'm so overwhelmed with life that if I didn't use the app, I would be a wreck.
There's also the Class Dojo app where you can communicate with your child's teacher. The only thing is that your child's teacher has to be using it in order to be able to communicate. We used it a lot last year and it was a life saver.
I just created a folder with the two things I need the most.
Starting school is about being organized and staying on top of things.
As a parent, it's our job to be a good example for our kid(s) NO MATTER OUR RELATIONSHIP SITUATION. Get that? All too often we get so wrapped up in our own emotions and our own drama that we forget we have a precious being learning every little thing from us and will be emulating us as they grow older. What do you want from them. Our other job as a parent is to fake it 'til we make it. If we don't know the answer, we need to find it. When it comes to school, the answers are in the apps.
Happy back to school. You're welcome and let's be impressive, shall we?