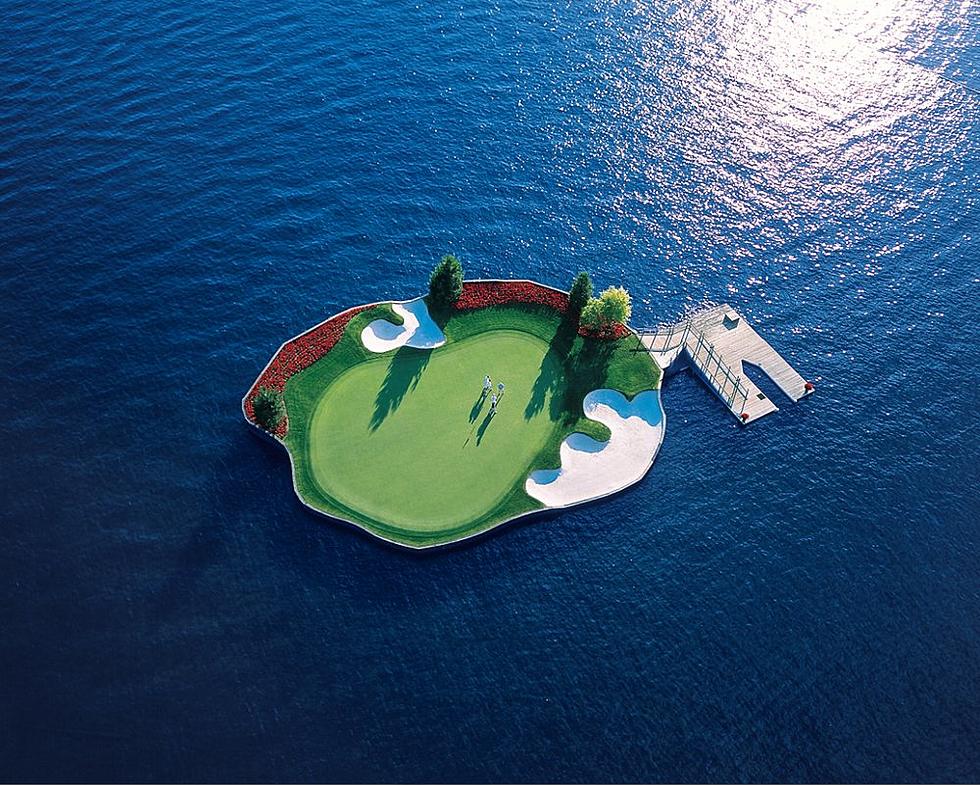 Hole #14 at Coeur d'Alene Golf Resort is on Every Golfer's Bucket List
Credit The Coeur d'Alene Resort Golf Course via Yelp!
The Coeur D'Alene Resort Golf Course is known to golfers around the world for its famous 14th Hole: The Floating Green. The floating green is unlike any other hole on any other golf course because it's actually floating in the water! It's known to test players of all skill levels.
Not only does the golf green float but it also moves and changes up its distance from the tee. It's the first and only island golf green in the world that does that. It is also the most expensive green ever built! The architects of the course themselves even believed it was a crazy and impossible idea but they eventually came up with an underwater cable system thar changes the position of the green every day.
The floating green has the capability to move anywhere from 100 yards to 270 yards however, the standard tee is usually set somewhere between 140–170 yards depending on the day. Once you tee off, a Coast Guard certified captain takes you out the hole on a water taxi.
Don't be too upset with yourself if you miss the 15,000 square foot island green and land in the surrounding water hazard. 20,000 - 30,000 balls are fished out by divers each season. If you happen to par, you'll actually recieve a certificate!
While role #14 is certainly a challenge, the rest of the course is known to be a shorter course that is golfer-friendly. Add this one to your bucket list, golfers!
LOOK: Here are the 10 US golf destinations with the most courses per capita
Discover where you can find the best access in the country for your pick of courses, the unique terrain that lends itself to world-class golf, and what makes select clubs noteworthy.
LOOK: Here are the best lake towns to live in
Many of the included towns jump out at the casual observer as popular summer-rental spots--the Ozarks' Branson, Missouri, or Arizona's Lake Havasu--it might surprise you to dive deeper into some quality-of-life offerings beyond the beach and vacation homes. You'll likely pick up some knowledge from a wide range of Americana: one of the last remaining 1950s-style drive-ins in the Midwest; a Florida town that started as a Civil War veteran retirement area; an island boasting some of the country's top public schools and wealth-earners right in the middle of a lake between Seattle and Bellevue; and even a California town containing much more than Johnny Cash's prison blues.