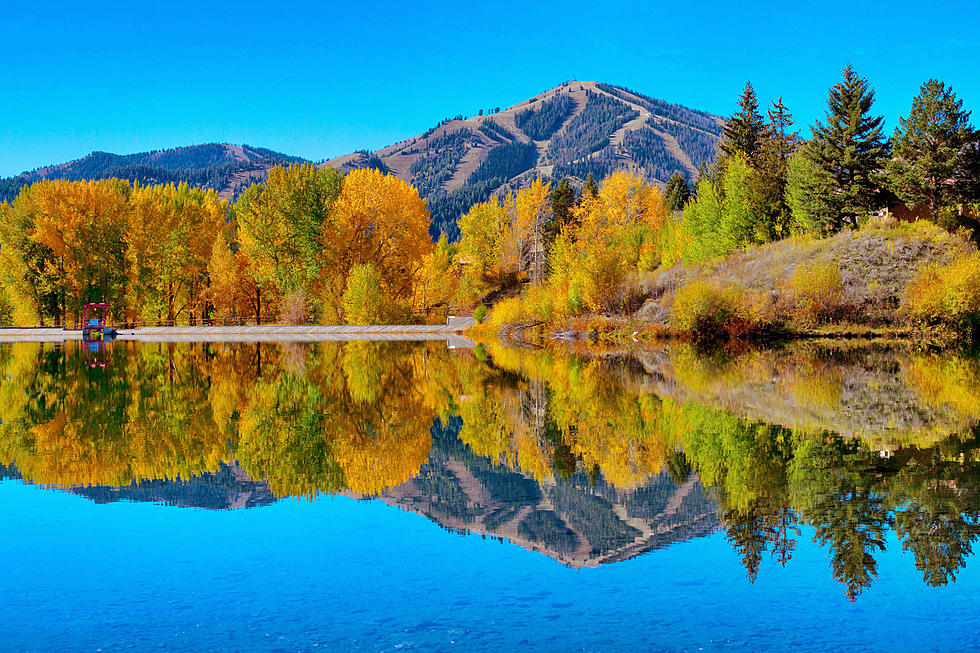 Incredible Small Idaho Town Named One of Fall's Top Travel Destinations
Getty Images/iStockphoto
With a nickname like the "City of Trees" you might think that Boise would be Idaho's best "fall travel destination," but a national travel website handed the title to a much smaller Idaho town. 
Boise's nickname is one of those things you really come to appreciate when you see aerial shots of some of the city in the fall: shots of fall foliage lining Capital Boulevard from the Boise Depot to Downtown, the northside of Albertsons Stadium hugged by the gorgeous orange and yellow stress on the Boise Greenbelt, staring at the bright hues on both sides of the river while standing in the center of a bridge. It makes you want a pumpkin spice latte or warm apple cider really bad. 
We think it's gorgeous, but apparently not gorgeous enough to win over the folks at TravelPulse!  They set out to find the destination in each state that is downright magical in the fall. In Idaho, they found that destination in Sun Valley. In explaining why they chose Sun Valley, they explained that it didn't just have to do with the beautiful colors you'll see along hiking trails and 116-mile-long Sawtooth Scenic Byway. It was also because lodging prices are a little lower before ski season kicks into high gear.
When Should I Visit Sun Valley in the Fall?
Well, that sort of depends on what your goal is. Is the goal to enjoy fall foliage? The famous Smoky Mountains Fall Foilage map predicts that Sun Valley should start experiencing some patchy color the week of October 9 and those colors will reach their peak the week of October 30. 
Unforgettable Fall Festivals In and Near Sun Valley
Is it to attend an unforgettable fall festival? Sawtooth Brewery's Oktoberfest happens September 15-16, 2023 and is packed with live music, a corn hole tournament and stein hoisting. The highlight is Saturday's Beer Olympics where teams of four face off in the Beer Olympics where they show their stein hoisting, speed chugging, cornhole, axe throwing and flip cup skills for a chance to win a two-liter DASBOOT and their names put on the Oktoberfest trophy.  
October starts with the 27th Annual Trailing of the Sheep Festival, October 4-8, 2023. Oprah Magazine has this one on a list of the 22 Best Fall Festivals in America. It's truly unlike any of the other festivals on the list. While most of the choices celebrate pumpkins, apples or some sort of fair food, this one's main draw is watching hundreds of sheep relocate to their winter pasture. Whether it's lamb tastings, sheepdog competitions or making things out of wool, the entire weekend is centered on Idaho's rich sheepherding history. Of course, if you plan on going you'll want to stick around for the main event - The Big Sheep Parade which happens on Sunday at 12 p.m. The sheep will walk right down Main Street in nearby Ketchum. 
Mid-October means the return of the Sun Valley Jazz & Music Festival with almost 20 artists and bands scheduled to play October 18-22. In addition to the jazz performances, there will be plenty of dancing! 
Test Your Limits with the Baldy Hill Climb
The Race to Robie Creek is one of the most famous races in the Pacific Northwest because of its 8.5-mile climb of 2,072 feet and 4.6 miles of toe-crushing downhill. We're runners and the Baldy Hill Climb sounds even more grueling. Why? Because the course crunches 2,045 feet of climbing into just 1.8 miles. There is a silver lining. Unlike Robie, you don't have to run back down the mountain. You get to ride back down to the base of River Run on Sun Valley's gondola. The race is coming up on Saturday, September 30. 
Of course, Sun Valley, as well as nearby Ketchum and Hailey, have miles of miles of trails and dozens of camping spots for you to enjoy before the weather gets too yucky to camp. They say the Scenic Overlook that's accessible from the Bald Mountain Trail is one of the best places to truly enjoy Sun Valley's beauty in the fall. 
KEEP READING: See the Must-Drive Roads in Every State
The Best of Harrison Boulevard - Halloween 2022
This year's Halloween on Harrison Boulevard has a little of everything. From beautiful to freaky and from happy to terrifying. Do you have a favorite?
Every Spirit Halloween Store Coming to the Boise Area in 2023