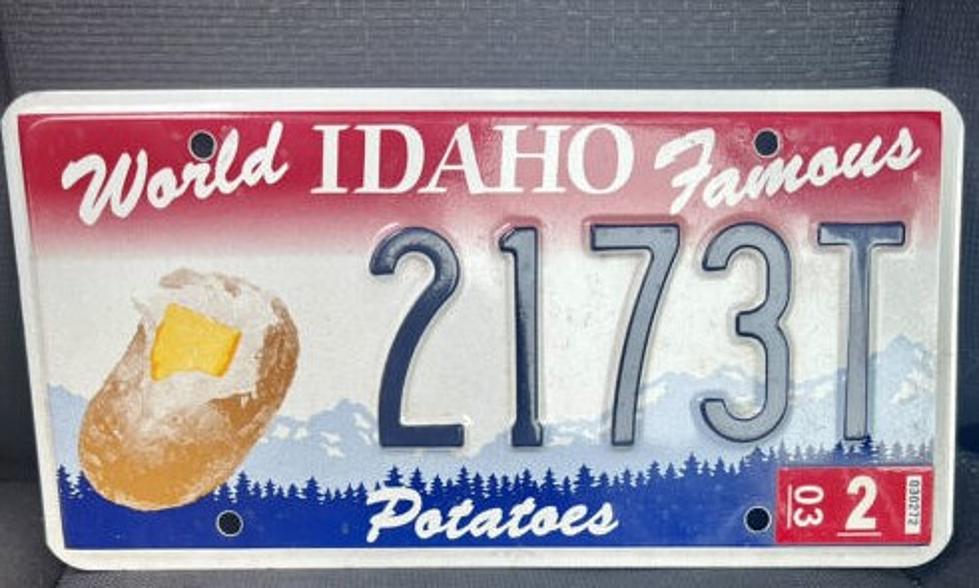 Which Of These 37 Idaho Specialty License Plates Are the Most Popular?
Image via Worthpoint
Over the last 32 years, there haven't been many changes to Idaho's base license plates
The red, white and blue design framed by trees and mountains first appeared in 1991. In 1998, the state removed a tall pine tree on the right-hand side of the skyline. Around 2008, they stopped embossing the license plate numbers and just screened them on the plate itself. Unless you can spot something else, those are the only changes we can visually see since 1991! 
Idaho's probably overdue for a design refresh, but the good news is that if you're a little burnt out with the standard issue "Famous Potatoes" plates there are over 30 specialty plates that you dress your ride up with. Some of the designs add some sort of logo and unique tagline to the standard design. Others look completely different from the red, white and blue design, featuring things like Idaho's state animal or someone caring for our forests. 
There are additional plate designs you can apply for depending on your military service or when your car was manufactured. 
The specialty plates usually have a small fee that you have to pay on top of your normal registration fee and that's because the plate serves a purpose beyond just looking cool. The fees associated with those plates benefit different organizations throughout the state to help with things like maintaining resources throughout Idaho, building education programs, assisting military families and restoring the State Capitol. 
Personally, we've always loved the quirky baked potato design and got curious about how many Idahoans actually chose this plate. We reached out to the Idaho Transportation Department to see if they were able to get us a count of how many plates were registered for each design and how much the plates helped raise for their cause. They supplied us with the counts and financial figures from 2022.
Not familiar with all of these designs or what they do? We used that ITD data to rank them by popularity! Here's a glimpse at the plates and what they benefit from!
Which Of These 37 Idaho Specialty License Plates Are the Most Popular?
We reached out to the Idaho Transportation Department to find out which of Idaho's specialty license plates were the most popular. They sent us the number of plates that were registered for the Fiscal Year 2022 and, if the data was available, the amount of funds they raised for their respective causes.
LOOK: What Did Idaho's License Plates Look Like The Year You Were Born?
Chances are you remember what your first license plate looked like, but you may not have seen the one that was issued 16+ years before you got your license. Thanks to collectors selling plates on eBay we can help you fill in those gaps!
READ MORE: Are You Smart Enough to Correctly Identify All of These Idaho License Plates?
Idaho has been using this county coding system for their license plates since 1945. Outside of 1A and 2C, how many of these counties can you correctly identify by their license plates?