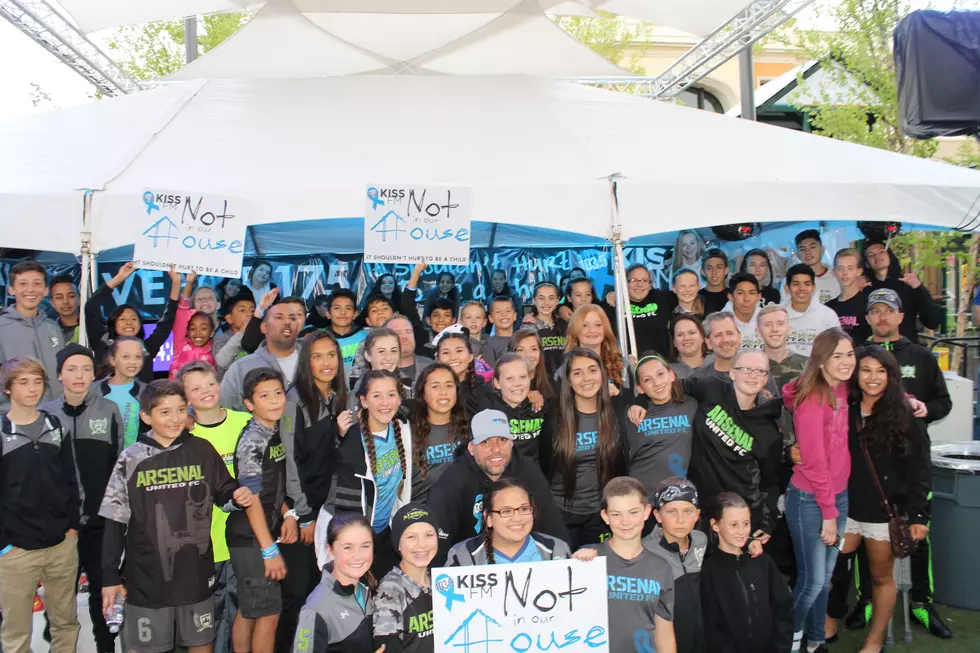 Live For 175 Celebrates Ten Years This Week
Cycle to Break the Cycle
We celebrate ten years of standing up for the kids who can't speak for themselves. April is Child Abuse Prevention Month and we're back with the Treasure Valley to take a stand this weekend. Let's go back all week to show you where it all started.
Let me start by saying I've been deleting everything I've tried to type for weeks. I just can't come up with the words right now. How can you? April is child abuse prevention month and we stand together each year to help stop abuse. Live For 175 is something you might know from when we kicked it off nine years ago. You might remember the 7 marathons in 7 days, live from the billboard fasting for that week, or the 7 days without sleep to break the Guinness Book of World Records. All of these were amazing accomplishments by our entire team. Idaho was just the beginning though.
A Little Girl Named Summer, 2007
It's the newspaper article that I can't get out of my mind and 11 years ago couldn't bring myself to getting beyond the first paragraph. Spokane was witnessing the worse case of child abuse in the history of the city. Summer was only 4 years old when her life was literally squeezed out of her. Summer's father and stepmother tortured her to the point that she just couldn't go on anymore. They used shock collars on her. I can't even...
Summer changed me forever and I vowed to never allow her story to go untold. I promised myself that I would do something each April to help protect other children from this same fate. I tried to talk myself into this...justification that she somehow died so I could go help other kids learn from what happened. That's just ignorant. There's no reason why any child should be subjected to any kind of abuse much less this unthinkable torture. This story is where it all begins.
Live for 125 was something I came up with in order to get the most attention possible. I wanted everyone's eyes on us and each radio locked in. We had to get the city listening so we could help prevent this from ever happening again. So, I stayed up for 125 hours to break a world record and call attention to Summer's death. This is where it all began.
Live For 175 goes deeper than the little girl we've been discussing. Abuse has taken a child in our own backyard. 8-year old Robert Manwill was also killed in a terrible abuse case that had the city out looking for him. We've found new ways to fuel our passion and the urgency needed to help prevent abuse now.
Please join us on a ride of your life! We don't care how long you ride or whatever you strap in. Come and join us or follow us online right here. We've teamed up with Cyclebar to create an experience that you won't forget. This will be the most empowering moments you will ever see and here. Get your riding details below and check out one of these quick galleries from all these years.
Attention RIDERS! Here's all the information you need to know to get started. Oh, it's free. This is a week about togetherness and love for one another. You don't need to be in a group and there is no fee. You can even come just sit and watch. Find us and say hello. Come tell your story in the hopes it could save another. We just want you to know that we're here.
1

2008 - 7 Days without Sleep.

This is where it all started. 7 days without sleep, broadcasting 24/7, had to talk in between each song all week, and got 15-minute breaks every 8 hours. We made national news that year breaking Guinness Book of World Records.

2

2009 - 7 Marathons in 7 Days.

7 marathons in 7 days was the largest challenge I've ever faced. Complete faith and listeners in the Treasure Valley that motivated our team. I think I trained for about 8 weeks from what I remember. The most I had ever ran was 10 miles.

3

2010 - 8 Days without Sleep.

Robert Manwill was now the poster child for child abuse in the Treasure Valley. We dedicated our annual event to Robert and I stayed up for 8 days without sleep to raise more awareness and try to make sure it didn't happen again. This little guy's death shook our community.

4

2011 - 7 Day Fast on Billboard.

I love to eat! We switched it up and put our message on Billboards across the Treasure Valley, It Shouldn't Hurt To Be A Child. I fasted and lived on that billboard for 175 hours.

5

2012 - Kekeluv Lives In a Box.

I went from a billboard to the back of a truck. We took the child abuse awareness campaign on the road from neighborhood to street corner. We took that message where the abuse lives, in the community.

6

2013/2014 - Cycle to Break the Cycle Begins.

We called this the "Ike Project". Built by our engineers, we powered the message on bikes. The energy powered the radio station live from the parking lot in the Village at Meridian before it opened. This was the first campaign where listeners got to help power the message.

7

2015/2016 - Cycle to Break the Cycle.

We moved our bike from Idaho Mountain Touring inside the Village at Meridian. This has been the best location for people to ride, interact, and there are plenty of activities to keep you busy.

8

2017 - Cycle To Break The Cycle: 10th Year Anniversary

This will be the 10th year of standing up for those kids who can't stand for themselves. We are their voice. We cycle this year with a much larger focus. CYCLECAR will bring their high-tech bikes into courtyard at Fountain Square.

These bikes will track your speed and how many miles you ride. We plan to ride across the country and touch people in every city. CYCLEBAR will be our key to making this happen.