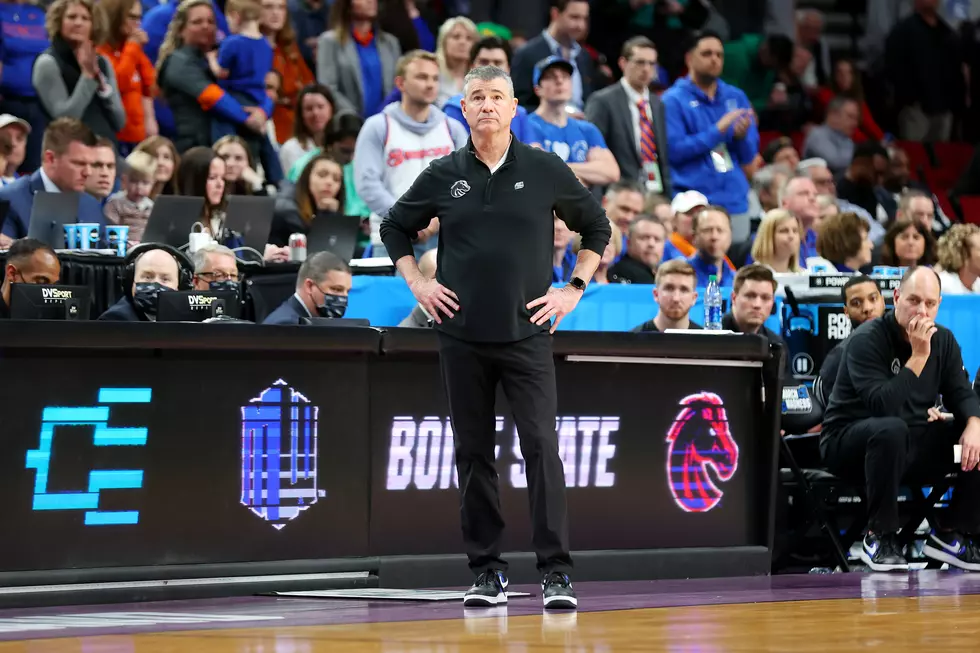 Boise State Projected To Finish Second in Mountain West
Getty Images
No, we aren't talking about football.
Troubles on The Blue and beyond this season have Boise State football scrapping for decent placement in the Mountain West Conference and experts think they may go into bowl season with the worst record in decades.
So what do Boise State fans have to look forward to this winter if a bowl season is going to be lackluster? How about Boise State Basketball!
For the past two seasons, Boise State men's basketball team has taken things to new heights--for so long, Boise State was referred to as a 'football school' however it seems as of late, the basketball team has really stolen the shine.
Let's not forget, Boise State was the last team to defeat San Diego State last season--a team that went on to play in the National Championship against UCONN.
Just released today--the Mountain West Coaches Poll has Boise State projected to finish second in the conference, behind San Diego State. A second place finish may well put the Broncos into March Madness yet again under Leon Rice's leadership.
Boise State's Most Underappreciated Star
Boise State seems to mean "football" for most, right? On a national stage, after all, it's the blue turf and the success that the Broncos have had on it that made the university a household name. What happens on the hardwood, however, is far from appreciated at the level that it should be. Leon Rice came to Boise State as a blessing from one of the most powerful basketball programs in the nation: Gonzaga University. Now, the winningest basketball coach in the history of the school seems to take immediate heat if the Broncos aren't in the Final Four. Spoiled by wins on the football field, fans seem to expect the same of the basketball program but when the investment in basketball is so much less than football--can you really have these types of expectations!?
Gallery Credit: Credit: Mateo, 103.5 KISS FM
This Former Nampa Basketball Star is ESPN's Darling
It's not often that you see Sports Center re-run a single play as often as they did last night. The good folks at ESPN could not get enough of the dominating performance by one particular Texas Tech player who left it all on the court. His team defeated Baylor-- the defending National Champion and the only remaining undefeated team in the country this season.
Plot twist, this player has some serious Idaho ties-- with NO offers out of High School, Adonis Arms played in Nampa at Northwest Nazarene University where he gained the skill set and the reputation to make his way up to the big time stage.
Gallery Credit: Credit: Mateo, 103.5 KISS FM
Insane Big Sky Basketball Moment Makes National Headlines
Check out the break down of this amazing sports moment that happened in downtown Boise.
Watch the full video below!
Gallery Credit: Credit: Mateo, 103.5 KISS FM