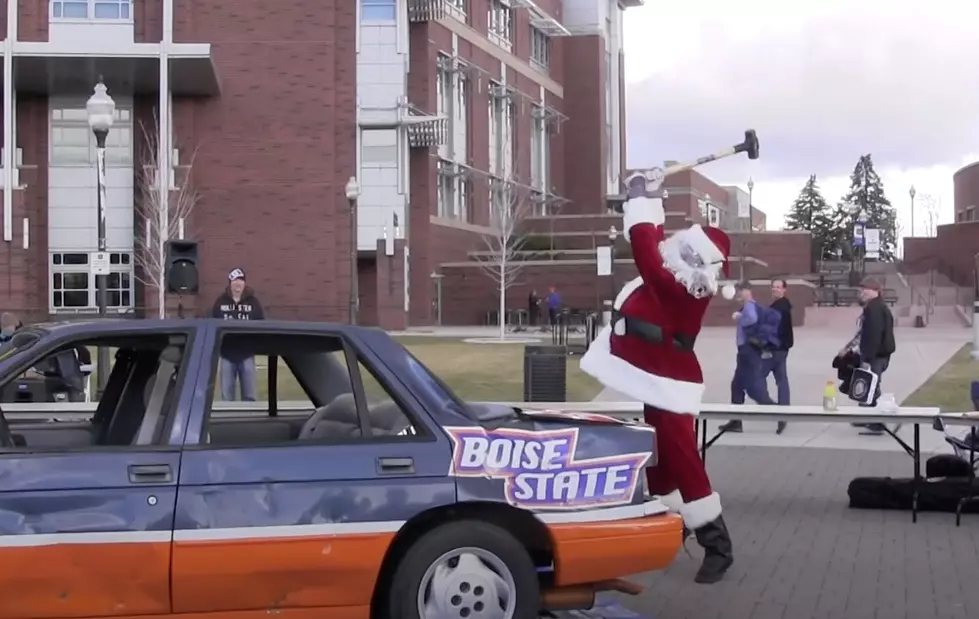 Does Uncovered Footage Prove Santa Hates Boise State? [Video]
Credit: YouTube / Nathan Koteras
When you think of Santa Clause, what comes to mind? An old, jolly man that likes cookies and little boys? Us too. Each year, Santa Clause visits the Treasure Valley on his sleigh, which is pulled by a group of caribou that learned how to fly, several years ago.
Of course, Santa never comes empty handed-- he always has toys for the little boys and the little girls while his sleigh is casually parked on the roof of their home. What a guy.
Our point is this: when you think of Santa, it's all happy thoughts (unless your child caught him kissing your wife under the mistletoe). While doing some internet surfing, we were searching for the best of Santa Clause here in Boise--because our sources tell us that he loves the Treasure Valley. What we stumbled upon instead, was shocking.
Does Santa have an anger problem?
Take a look at this raw footage of Santa Clause completely beating up a vehicle that every Boise State fan would kill to own and drive
Archived Video Shows Santa Hates Boise State
Exclusive footage has been obtained from the YouTube where this video captures Santa Clause attacking a Boise State car.
Gallery Credit: Credit: Mateo, 103.5 KISS FM
What got into Santa here? 
We shared this video a year ago and still haven't found the answer to Santa's beef with Boise State!
Not only did Santa choose to smash the Bronco dream car once, but he did it twice.
Following our discovery of this video and prior to our publishing of this crucial, unknown information, we searched high and low for Santa AT Boise State. While we found plenty of footage of Santa in Boise, Idaho--we could not confirm any sightings on Boise State's campus.
Maybe the caribou don't like the turf?
Check out the whole video for yourself, below: 
Boise and the Treasure Valley's BIG Christmas Calendar 2022
Many events are returning for the first time since 2019! Check out all the holiday fun you have to look forward to in 2022!
Gallery Credit: Michelle Heart
What If Santa's Reindeer Were Named After Treasure Valley Streets?
Which street names in the Treasure Valley would best fit Santa's Reindeer?
Gallery Credit: Chris Cardenas
4 Places Where Those on The Good List Can Get Free Santa Photos Near Boise
Don't have the budget for those fancy Santa photo packages this year? These are some other options!
Gallery Credit: Michelle Heart