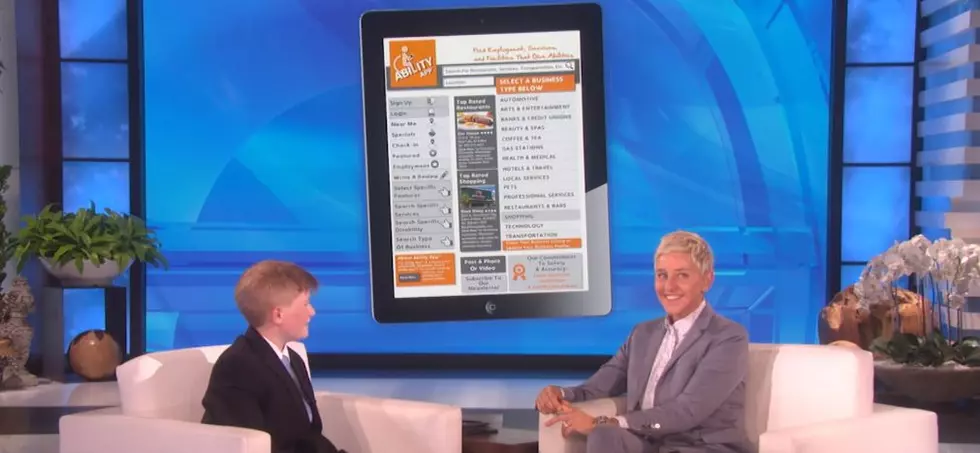 Idaho Kid on The Ellen Show
The Ellen Show via YouTube
What were you doing when you were 12? I know I was carrying keys around at the mall hoping someone would believe that I drove there. Alex has developed an app for people with disabilities and was on the Ellen Show to talk about it.
Did you miss it? 12-year-old Alex got to meet his idol, Ellen DeGeneres. He definitely earned his way on to her show, that's for sure.
When Ellen heard of the Coeur d'Alene Charter Academy student's 'Ability App' she knew that more people needed to know about the concept and, most importantly, help get the app to a place Alex dreams it can be.
The Ability App was inspired by a moment when Alex watched a man in a wheelchair struggle to open the door to his grandparent's retail store - that didn't have accessible features (they have since opened an accessible store). There has got to be a way to help people who are differently-abled find out what kind of access is available for them at public places that would include: wheelchair ramps, accessible boat launches, hiking trails, grocery delivery, restaurants with Braille menus, animal-friendly locations and even occupational therapy and disability-friendly job listings.
Money to fund the app is amazing. I would never look a gift horse in the mouth but the most amazing part of what happened to Alex (in my opinion) was Ellen offering to introduce him to her digital team. That has more value over everything else. I'm such a geek that I would have totally been that person who invented an app at 12 years old (but the mall called my name all too often). Following the airing of the show, Alex saw a little spike in his GoFundMe account. He's got a little ways to go but he's definitely making progress.
The state of Idaho is educating and supporting some incredible future leaders.