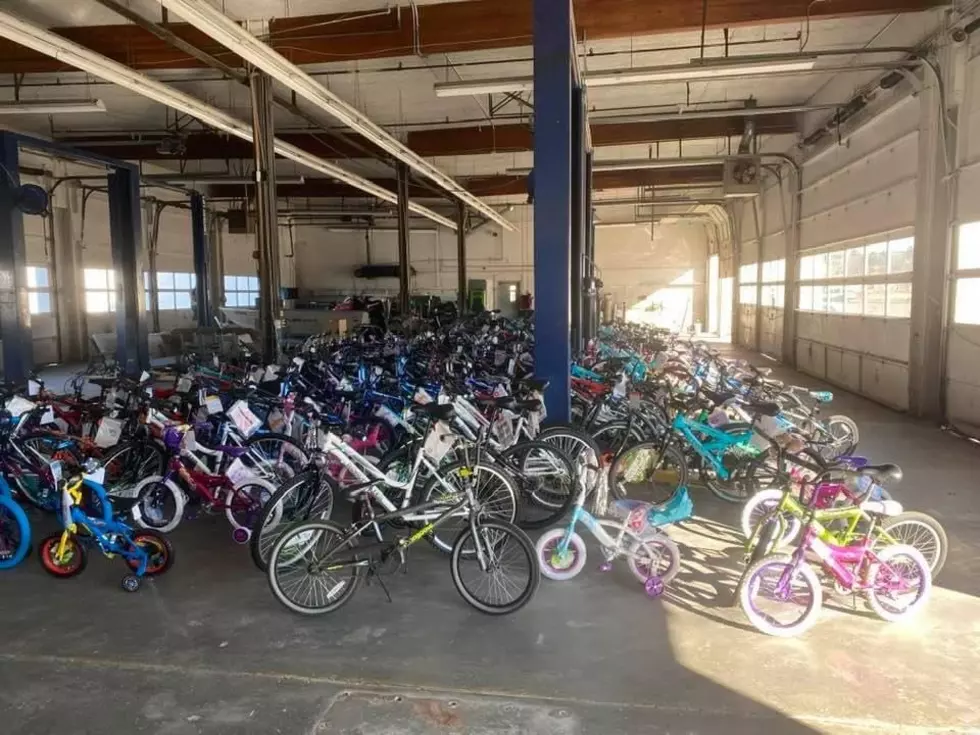 Hometown Toyota 'Helps Them To Hope' Once Again
Credit: Hometown Toyota
Nearly a year ago now, I shared with you my experience over at Hometown Toyota in Ontario. I had survived another winter in my beloved 1998 Toyota 4Runner but no matter how much I loved that car, with over 260,000 miles on it...I was ready to NOT be nervous about "surviving" another winter. Once my car hunt started, I took so many of your suggestions on where to go, what to get, who to see--and I'm forever grateful that I made the short drive to Ontario, Oregon to jump into my new and improved Toyota 4Runner.
As I've said here online and on the air, I chose to get my next vehicle with Hometown Toyota because of how easy they made EVERYTHING. I like to think that I know a good group of people when I meet them, and at Hometown Toyota--I knew I was really in a hometown environment. That was the difference.
These guys live up to their hometown promise and it seems like there's always a charity effort underway. With Christmas just around the corner now, that is certainly the case right now as Hometown Toyota and several other local businesses and organizations have teamed up for this years "Help Them To Hope" charity effort.
The annual food and toy drive is underway now and during these unprecedented times in which we've been living for the last several months, efforts like this are extremely crucial.  Charities are seeing an increased need this year--as is to be expected--and many of our neighbors who have suffered reduction in work or health struggles are also searching for assistance for the first time ever.
Feeling generous? ALL donations made will be distributed to the needy in Malheur, Payette, and Washington Counties. Checks, food, toys, and bikes are all being collected at the following locations:
ONTARIO
Albertsons.
Argus Observer
Bank of the west
Chase Bank
Columbia Bank
D&B Supply
Farmers Supply Co-Op
Four Rivers Cultural Center
Happy Hippy
JnJ Corner Store
Kimmy & Keele
Norco
Malheur Federal Credit Union
Ontario Auto Ranch
Ontario City Hall
Oregon Trail Hobbies
Plaza Inn
Steve's Hometown Toyota
Sherwin Williams
Tranquility Bay
Walmart
Washington Mutual Bank
Wingers
Washington Federal Bank
VALE:
Boots to Roots Salon
Malheur County Courthouse
Malheur Enterprise
NYSSA
Bob's Restaurant & Bar
Les Schwab
Logan's Express
M&W Market
Nyssa Public Library
Valley Wide Cooperative
PAYETTE:
Columbia Bank
Corner Cuts Salon
Family Dollar Store
Independent Enterprise
Malheur Federal Credit Union
Mays Trucking
Payette Senior Center
Three Rivers Insurance
US Bank
Washington Federal
Wells Fargo
FRUITLAND:
1st Interstate Bank
D.L. Evans Bank
Fast Track Auto Sales
Key Bank
Steve's Hometown Chevrolet
Silver Hawk Realty
Zions Bank
NEW PLYMOUTH:
Roady's Truckstop
E-Z Mart
WEISER:
Columbia Bank
Ridley's Family Markets
Steve's Hometown Motors
Weiser Memorial Hospital
CHECK THEM OUT: 100 years of Christmas toys, gifts and fads