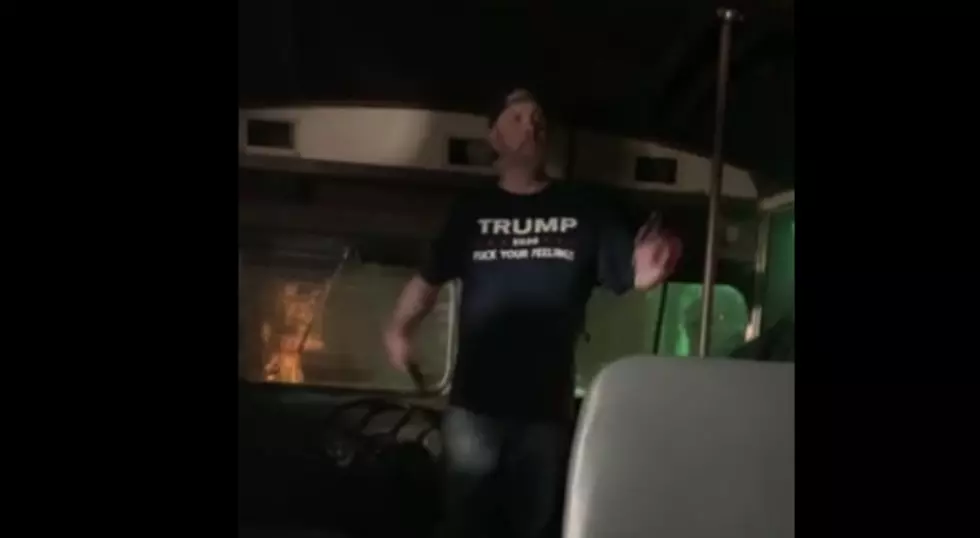 Man Pulls Gun On Teens at Haunted World
Credit: Facebook
A video making the rounds on social media over the weekend and now regionally, via news outlets, has really left us scratching our heads.
Some people's kids. Am I right? And no, I'm not talking about ACTUAL kids this time around. Just an adult that can't seem to help but act like a child.
In a video posted to social media, you can see 37 year-old Boise man, Joshua Lockner, telling a group of kids to calm down, while waving his gun in the air. You then hear the kids saying "you're the one with a gun". "You're god damn right I am", he replies.
What on earth is going on here?
Clearly, the kids sensed something wrong. The minute and a half long video shows one kid asking him if he was drunk. Of course, Lockner said "nope" however the arrest report shows that he was indeed intoxicated.
Watch the video for yourself, BELOW:

Haunted World, for years, has been a SAFE and FUN place for kids, families, youth groups, and more. When it comes to Halloween, this is a staple to our community. There is, in my opinion--and I'm willing to bet in everyone's opinion--absolutely no room in our community for this type of temperament and behavior where we go to have...FUN. So many kids and families look forward to a trip out to Haunted World each year and now, there's a concern about guys like THIS? Crazy.
We here at 103.5 KISS FM have worked together with the team at Haunted World for a long time and we know that they'd never stand for this type of behavior. Obviously, the situation was handled and luckily, authorities got involved.
The post that is going around social media is from someone who says it was their children that he was yelling at with a gun in hand. She wrote:
To All my Facebook friends and family . My 14 year old daughter and 16 year old son went to Haunted World in Caldwell last night. My daughter was going to meet her friend that was celebrating her birthday. My husband and I agreed to let her go with her brother and thought it would be safe because it was chaperoned by her friends parents as well as the venue being outside. My kids were with a group of kids in the abandoned school bus that was part of the theatrics , when this guy decides to get in and disrupt the group. He was drunk and started to antagonize the kids stating "Trump 2020". And things escalated from there as you can see by the video. The kids range in ages 13-16 that were on the bus.

People that know me , know that I do not post really much of anything on my Facebook, but I am mad and disgusted .What ever your political views you have , that is your right because we live in a free democratic society and that is what this country is built on . This man pointed a gun at my daughter and her friends and tried to scare them . What has this world come to , where a grown man pulls a gun on kids because of his political views ? I never thought that this could happen. This is wrong and it's sickening to think what could have happened if he had shot his gun. THIS IS NOT OK!!!

It's bad enough that the kids are having to deal with Covid and the new norms. We've got to be better then this . We have to be a better example to our kids . This is no ok regardless of what side of your political views . Please for the sake of our kids and our country.
Celebs Share Their Personal Paranormal Stories