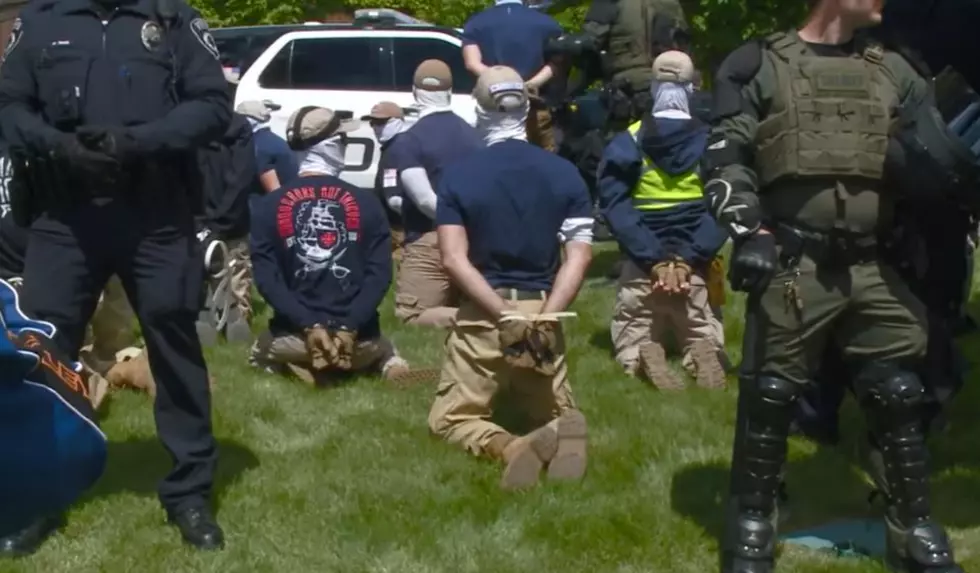 Why Aren't More People Talking About This Horrific Idaho Event?
Photo by Youtube, KREM 2 News
On Saturday, 31 members of a white supremacist group were arrested for attempting to incite a riot at a Pride event in Coeur d'Alene, Idaho.
Someone saw them filing into the back of a U-Haul with a bunch of riot gear, and tipped off authorities. 
This is positively horrifying for so many reasons, but our biggest question right now is: 
Why aren't more people talking about the fact that this happened?!
Who was involved?
A Coeur d'Alene reporter posted a Twitter thread containing the photographs, ages and locations of these group members, as well as informing us that they have all already posted bail.
What actions have been taken?
Gov. Brad Little finally posted an official statement on Sunday afternoon – he stated that Idahoans should be able to safely gather together and use their freedom of speech, without fear of repercussions or retaliation.    
However, many locals thought that this statement from the governor was extremely vague, and too little too late.
 How do Idahoans feel?
However, all of that set aside, this close call has absolutely shaken locals to their cores, as they realize that Idaho simply isn't a safe place to live right now.    
And it has been a grim and disappointing reminder for everyone that we should be extra cautious when celebrating Pride.    
When Attending a Protest or Rally, Keep These Things in Mind
The climate in Idaho continues to get more and more dangerous, as rallies, protests and celebrations are being threatened.
Discover 7 Unique Festivals in the Boise Area This Summer
Who's ready for a summer that we will never forget?
Check Out Idaho's Best Rodeos Near You & Grab Your Tickets Today!
These rodeos are coming to the Treasure Valley this summer, and they're bound to be a rowdy good time.