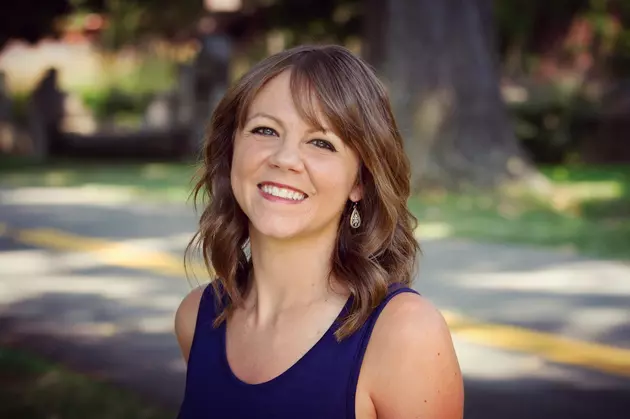 It's Time for Moving On Now…
Credit: Meagan Cramer, Townsquare Media
"It seems to me that no matter the faith a person may hold, we all share our lives with so many souls that it is impossible to see any end to the relationships we make." - Marc Roberge, OAR
What I'm about to say isn't easy. In fact, until a few weeks ago, I couldn't say the words out loud without getting choked up. I'm leaving 103.5 KISS FM. Today is my last day.
A handful of friends and family have known about my decision. They had questions and if you're one of those people who reminds me, "I've been listening to you and Keke since I was in high school," I'm sure you have questions as well. I want to clear the air a little so you can hear the words directly from me. This was not an easy decision. I am not leaving KISS because of any one thing that happened here or because I'm unhappy at the station. No one asked me to leave. I'm leaving simply because I grew up.
In my 11 year radio career, I have been more blessed than I deserve.  Radio as a job was a total accident for me. I was going to be a veterinarian until I started television production class in high school.  There was a voice inside me screaming that I was too good at writing, producing and directing the station's programming to NOT think about a career in TV news.
Through that class, I had the opportunity to intern at a radio cluster in my hometown. That radio internship changed my life. It brought me out of my shell (I used to be really shy, who knew?) and I fell in love with radio. I was lucky to be offered a part time job my last week of high school. A year later they gave me a chance to be on the air on the Top 40 station and started teaching me everything that turned the station into a living, breathing thing.  The time I spent there was invaluable. It also set me up to take the biggest risk of my life - moving 2,100 miles away from home to do a morning show in Boise.
I found myself in Boise and you have experienced every step of the journey with me. Whether it was something funny like trying to guess how long it would take me to fill up my windshield wiper fluid for the first time so that you could win Katy Perry tickets or something gut wrenching like listening to the aftermath of one of my breakups, you have been there for it.  We've had drinks at China Blue, we gossiped about douchey guys, we've had one of the most epic Vegas weekends in history, we've cried together at Live for 175 and we've shouted until we didn't have voices any more at Boise Music Festival.  You were also there when suddenly, I got the relationship thing figured out and found Nate. You have championed our relationship and tell me how happy you are that we're together. Thank you for being part of our journey.
As we get closer to the wedding, I've seriously reflected on where I'm at in life.  My priorities are shifting.  I'm spending less time doing shots Downtown and more time getting up early to run with my incredible friends from Team Run Boise. I'm spending less time trying to dress to impress when I go out on Saturday night and more time feeling comfortable in my own skin. I'm not spending time trying to scrounge up extra cash to pay rent but rather weighing the pros and cons of home ownership. I'm spending less time crying over boys that ghosted on me and more time building a life with my happily ever after. I like what's happening around me. I want to slow down and really appreciate these moments when I'm in them and that's why I'm leaving KISS.
I wouldn't trade the time I've spent here for anything. 103.5 KISS FM has brought me the three big brothers that I never had growing up.
Nathan Fast will always be my partner in crime. When I actually found time for a summer vacation a few years ago, I went to spend it with Nathan in California.  He's one of those friends that I can pick up with where we left off. I still text him when I'm having a college football meltdown. I still go sing Bon Jovi and drink "dom bombs" with him at Hannah's when he's in Boise visiting with his in-laws. If we make it to last call, I will absolutely go have a Pie Hole feast with him. He's got a beautiful family now and I'm so proud of him.
Lucky Tha DJ taught me to take chances. When I moved here, I was so used to following my parent's rules and not even moving my toe outside comfort zone. Whether it was introducing me to sushi or sticking a microphone in my hand at China Blue, he pushed me to get comfortable being uncomfortable. He dragged me everywhere after I got to the Treasure Valley. Restaurants, clubs, the lake, wherever we went to get conceal and carry permits during a blizzard, 4th of July in McCall...everywhere. I fell in love with Boise because Lucky showed me how amazing the city was. He gave me my cat, so there's that. He's a smart, wickedly creative guy that I'm blessed to have gotten to spend so much time with.
That brings me to Keke.  Without Keke, there's no Boise for me.  He took a chance on someone fresh out of college and brought me here to do mornings with him. We had a great five year run on that show. I'm not going to lie, Keke's a tough guy to work for because of how passionate he is about everything. He doesn't accept the bare minimum or average. Sometimes that made us to argue for hours.  Sometimes you heard it on the show and other times it was behind closed doors. I realize now that he did this because he saw my potential and knew I was capable of achieving new levels that I didn't even realize I could reach.  He challenged me to look at things in ways I'd never thought about.  Keke made me war tested. I can literally handle just about anything thrown at me after working for him for seven years.
On the flip side, when I was having a hard time with relationships or family, he always took time to listen to me no matter how ridiculous my "problems" were. I'm stubborn, so it would take me weeks (or years) for his advice to make sense to me. I now find myself repeating things he told me to friends that are having a hard time finding the right guy or are in a terrible relationship. Keke made me smarter and stronger without me even realizing it. He really is my big brother and I still love finding ways to say or do something so ridiculous that he doesn't know how to react to it. Plus, I'll never forget the time he had the lead singer of my favorite band call the morning show to surprise me. The cool part is that Marc actually remembers my voice from the interview and asked me if I'm still working with Keke when I got to catch up with him in person at the Idaho Center a few weeks ago. OAR's music has a connection to every good, bad and strange moment in my life since I started listening to them in 2005, so Keke's surprise was a really special moment for me. Keke, thank you for believing in me, bringing me to Boise and having a hand in my next steps.
Now for the last few questions. Am I leaving Boise? No. Nate and I are getting married here next August.  This is our home and we adore Idaho. I'll stay in Boise as long as the city will have me! Am I leaving radio? No. I'm not going far. In fact, I'm moving down the hall, up the dial and staying in the Townsquare Media Boise radio family. I've been given an incredible opportunity to take a job that's going to allow for a little more work/life balance and let me continue to grow.
Be good to Cruise & Box. Laugh with Mateo.  He's one of the smartest young talents in the game and it's been a pleasure to work alongside him as he grows into his new position at the station. And most importantly, antagonize Keke for me!
Muah!
Michelle Heart at 103.5 KISS FM in Photos