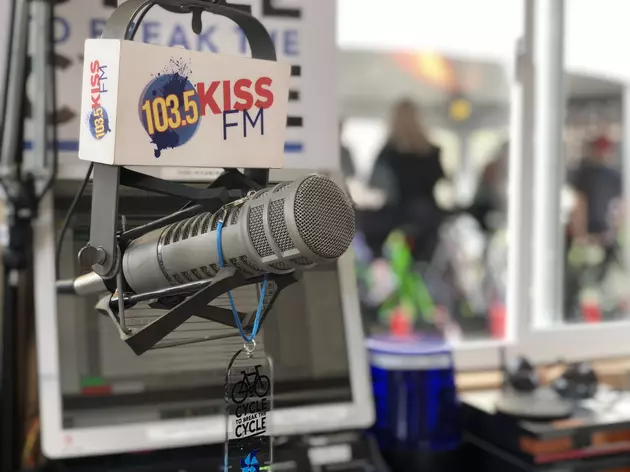 Live For 175 Recap For Day One With Kekeluv
Photo by: Kekeluv
Live For 175 is officially off to a great start from Fountain Square in the Village at Meridian. April is Child Abuse Prevention Month and we stand side by side with the Treasure Valley to help send a message, It Shouldn't Hurt to Be a Child.
The Kiss Squad invited hundreds of riders to jump on bikes and help us Cycle to Break The Cycle. The cycle refers to phases of abuse that people will go through unless they stop it, break it. We're helping you start the process all week.
Things got off to a much earlier start than expected considering we build a radio station from scratch in the heart of the Village at Meridian. Tuff Shed customized a tiny broadcast home and we had a crane drop it in Fountain Square.
The bikes are purchased and customized by Idaho Mountain Touring and the IKE Project was created by our engineer, Lee Eichelberger. IKE is what helps take the energy spent on cycling and converting it to power the broadcast for 175 hours.
We received all our Live For 175 - Cycle to Break The Cycle gear on time, signs went up, and we went live at 12 p.m. as promised. The phone system works 100% remotely where I can take calls and we've even added a few bells and whistles you might notice on site.
It's 1:33 a.m. and I'm going to catch a few hours before I'm back at 5 a.m. I just wanted to thank all of our riders so far and let you know there is still plenty of spots available to cycle. You don't need to have a team or group to ride. You can also just show up and be on standby if someone can't make it which happens almost every session of riders. Just click here to check out riding times including the theme days we've created.
Today was a whirlwind and I broke down in tears from the start because it's been a long time coming. I bottle it all up and exhale my emotions each April. I'll try not to ruin your makeup each morning ladies but there will be sadness. I'm happy to say that you'll also hear tears of joy and empowerment. This is a great teaching moment as well for your teens, girlfriends or anyone else. You might even notice a person riding alone and trust me - they aren't just riding for exercise. Everyone has a story.
Please join us for day two which is happening right now and you can view it live in our Fiberpipe stream. See ya in a few hours 💙Remember a few things if you never hear from me again.
It Shouldn't Hurt To Be A Child
Get help if you're in an abusive situation
Put the suicide hotline in your phone because you may never need it, but someone else might (208) 398-HELP (4357) You can also text that number.
Tell someone until someone listens. It's not your fault. You should never be hit or abused period. Mental abuse counts.
Finally, the day was fluttered with celebrity appearances to entertain all the kids and parents. We had some great friends from the 501st and EverAfter Enchantments. These are some of the most selfless groups of people that you could ever meet. They don't do it for money, but for the love of the smile. They help make dreams come true and the smiles are priceless.