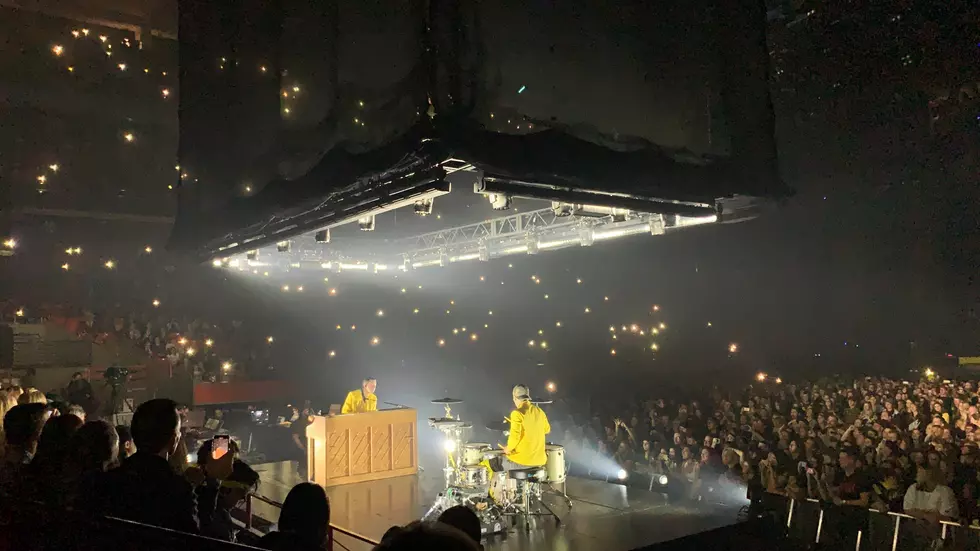 Twenty One Pilots Concert Photos Gallery Two [Photos]
Photo by: Kekeluv
The Twenty One Pilots buzz is officially over unless you made it out to the Taco Bell Arena Saturday night. Tyler and Josh threw down an unbelievably, fan-driven, electrifying performance in front of a sold-out crowd.
Did you miss the show? Get in line unless you're a part of their fan club and new it was now or never. Josh and Tyler from Twenty One Pilots didn't disappoint and I took some photos to share.
There were a few special moments in which I head a quick heads up from their management. We were sitting right in front of the second stage. Tyler and Josh aren't scared to pop up the second stage or disappear into the nosebleed sections with their fans. You can see from this photo below they had a stage that stretched across the Taco Bell Arena.
Sidenote: There isn't a bad seat in the Taco Bell Arena. Even the top of the sections gets a good view.
You can see from the picture below that Tyler disappears on the main stage and reappears clear in the top seats of the Taco Bell Arena. Is that Tyler or just part of the band with a mask making us think it's him? That's when he takes off his mask.
I really enjoyed hanging out and meeting so many Twenty One Pilots fans and 103.5 Kissfm listeners. Click through the different galleries and please tag me on Instagram if you went and took any cool photos.
Were you a part of the Keke and Kat M&G Experience? See your photos HERE.
Keep listening to us each morning (Keke & Kat) as we get ready to unload another big show and Kissmas Contest 🎄
Twenty One Pilots 2018 - 3